Yesterday I posted a very interesting question on Facebook, and I must admit I'm a little surprised by the answers. For those who missed it, I asked…
"What's your favorite way to display images in your home"
I'm not sure quite what I was expecting but almost all of you said you prefer framing over other displays like book, albums, or my personal favorite….canvas.
It's true that framing is a relatively inexpensive and easy way to get your photos up on the walls. But if you're like most families, your framed photos never get printed to more than 8×10 and can't be seen and admired from across a room.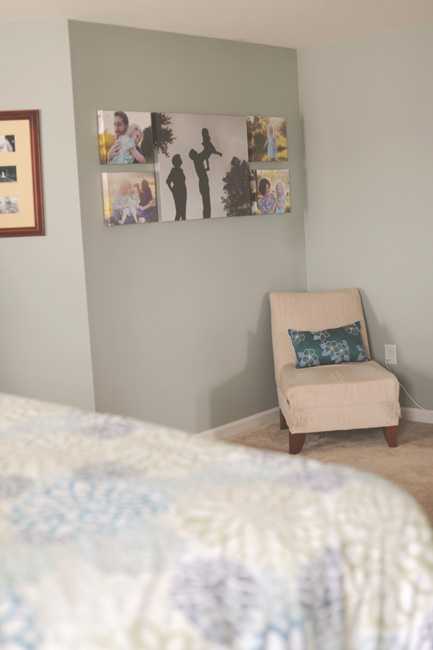 Other options like photo books or albums are take a lot of time carefully crafting, organizing, and planning layouts. Canvas can be a pricey monetary investment and it can be tricky figuring out what sizes to print to make a statement on your walls.
If you've been holding back on canvas in your home, today is the day I'm going to encourage you to do it.
It's the one photo product I truly feel should be in everyone home somewhere, and I've got a website to share with you today that's going make the process of getting canvas on your walls fun, easy, and inspiring.
A few weeks ago I met Chris Scott of Simply Galleries. A mutual friend introduced us and we Skyped for well over an hour where I found out he and his wife are native Virginians (yay!), amazing photographers, and just downright good people.
They've also just launched Simply Galleries this month, it's like nothing else out there right now in the world of photo products, and it's pretty gosh darn incredible.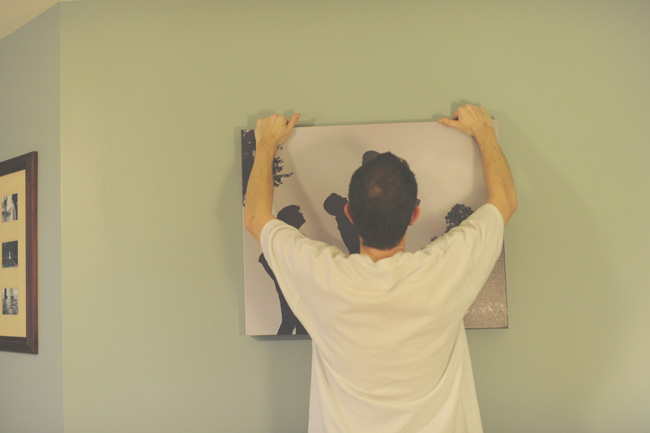 You know those crazy haircut makeover apps where you upload a photo of yourself and get to try on different hairstyles to see how the look on you before you go to the salon?
It's essentially like that.
You get to upload a photo of your room/wall/space and using the magic of technology you get to preview canvas layouts true to size on your walls and then order them once you find one you love.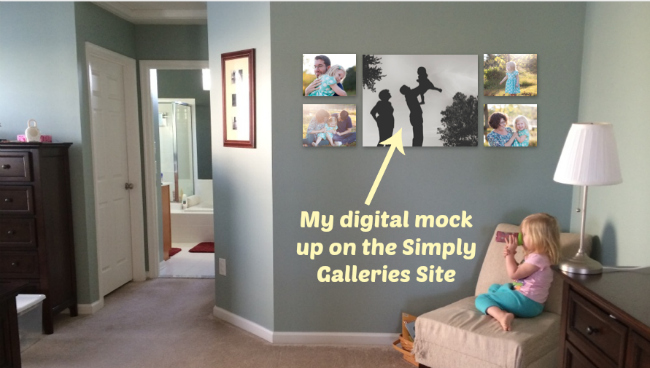 Oh and Simply Galleries uses a pro lab too, so you know that what you get will be super high quality.
I've been playing with Simply Galleries since the beta launch last month and I'm happy to report that I've finally got our most recent family photo shoot (from 6 months ago!) off a disc, and into a beautiful master bedroom wall gallery.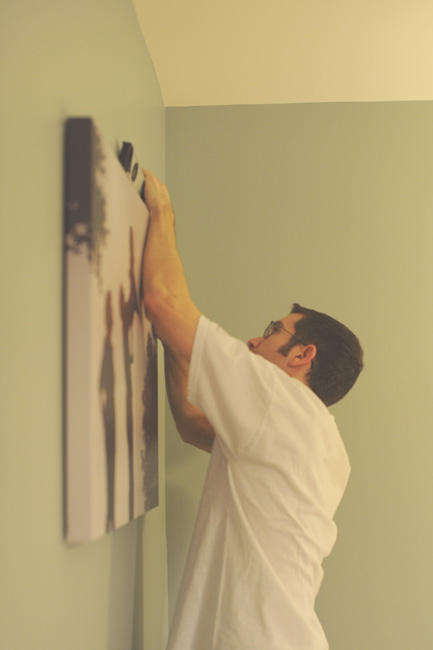 Their site was incredibly easy (and fun!) to use, navigate, and play with, ordering was easy, I got my canvases less than a week later, and they were hung on the wall (thanks to an incredible husband) in less than an hour!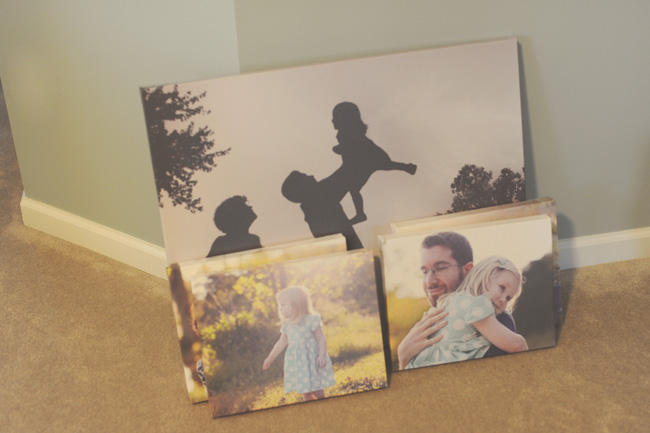 As you can see, the mock up I worked up on the Simply Galleries site perfectly matched what arrived to my home. Impressive!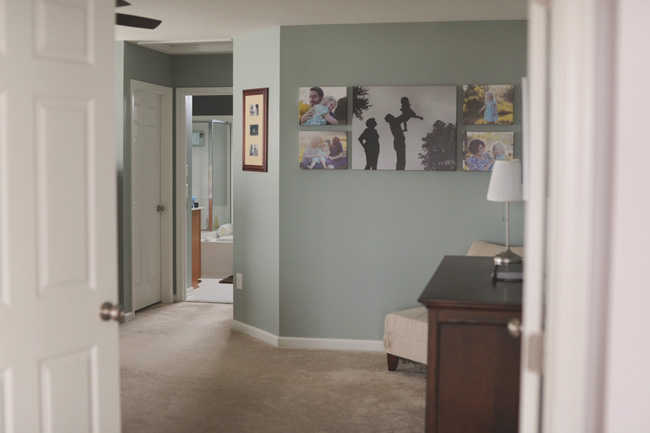 Intrigued by Simply Galleries but still not quite sure where to begin to make your investment worthwhile? Head on over to their page HERE and then use one of these 5 tips to start playing and get your perfect arrangement started:
1) Use a timeless photo as your anchor
I've known for years that a silhouette shot would be the perfect class statement to hang in our home on canvas. If a silhouette image isn't one you have in your photo archives, a simple black and white photo or a still life detail photo without the family can make a timeless statement as well.
2) Pick milestone moments to feature
A lot of moms worry that in a few years their canvas will be 'out of date' and they'll need to update their images. If your kids are a bit older why not create a milestone wall arrangement with several photos of the kids or your family at different ages and stages.
3) Coordinate colors
Try to match or coordinate the colors in the photo to the ones in your space. The arrangement will look more artistic and well thought out if the color palettes of the room and the photos align.
4) Start small
You don't have to invest is a huge 10 canvas gallery to start your statement wall. Why not begin with 1 larger piece and maybe two smaller complementary pieces. Then over time you can slowly make small canvas additions to complete the space.
5) Go BIG
One big canvas is going to look better than a small one any day. If you're going to make the investment you truly want to print something that makes a bold statement. Make sure that whatever you print is large enough to be seem across the room. Or if you must go smaller start with a cluster or at least 3-4 smaller pieces that can tell a story together.
Do you have a canvas wall gallery in your home? Do you want one? Tell me which of these tips is going to help you the most when you go give Simply Galleries a spin.  I'd love to hear about your plans to get your photos off your device and into you life for good!