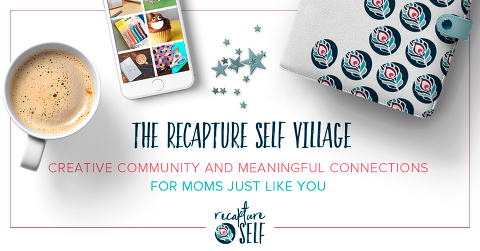 Just when you think you finally have this thing called motherhood all figured out – it changes again

.

The Recapture Self Village is here to guide you through all of life's transitions with grace and ease.
---
We're a sisterhood, a diverse community of dedicated moms who value not only our family, but ourselves and our personal development too.
---

YOU ARE A CREATIVE MOM. Even if you've never felt creative a day in your life.
I know this because you lead with your heart. You value your family. And you likely aspire to capture and preserve and connect with every.little.moment. of your life whenever and wherever you can.
Photography, crafts, conversation, cooking, art, community service – these speak to your heart in ways that are complicated to verbalize.
FINDING TIME FOR THOSE CREATIVE INTERESTS CAN BE CHALLENGING.
These days you find yourself bopping from place to place, from kid to kid, and from thought to thought with little downtime to process, get quiet, and find space to breathe. Even so – you are still creative.
You are creative when you make up a bedtime story on the fly. You are creative when you realize you have no food in the house and whip up an amazing meal anyway. You are creative when you corral all the cranky kids into the car and head to the drive-thru Starbucks so they can get a nap and you can get your afternoon cup of coffee.
---

HI, I'M BERYL, FOUNDER OF RECAPTURE SELF…
dedicated mom, business owner, photographer, and fellow creative.
---
Being a creative mom is in a word – exhausting.
The day to day grind of being a parent is HARD (but oh so beautiful). You know you're a good mom (even when it doesn't feel like it sometimes), and you value your family and those kiddos of yours so much.
But secretly you worry… You worry if you're doing right by them. You worry if you're present enough. Your worry if you're raising them to be independent, resilient, inclusive, self-reliant members of society.
Then you wonder if the dedication to your family
has caused you to lose sight of YOU.
Because every time you think you have the parenting thing figured out and breathe a sigh of relief that maybe, just maybe you can take care of yourself for a change — your world changes and shifts again.
•  Your kiddos enter a new stage of development that zaps your energy.
•  Your spouse shifts careers and is working more hours than before.
•  A family member unexpectedly passes away.
•  You move to a new town and don't know anyone.
THESE SHIFTS AND CHANGES TAKE  UP NOT ONLY YOUR TIME, BUT YOUR MENTAL ENERGY, AS WELL. You're a giver, a fixer, and quite possibly a perfectionist who puts your creative time on the back burner to tend to all the transitions, changes, and life that happens on the daily.
You read that this exhaustion is just a stage, a season, a blip on the radar and to ride the wave. Your mom friends all complain too, so you figure this is simply the way life is going to be for now. You excuse the exhaustion away.
You put your sewing project, your photo book, your cooking classes, your painting supplies on the back burner and reluctantly tell yourself they can wait.
But in your heart you feel like there must be a different way. Where you don't have to choose between giving away your time to either your family or yourself.

They say raising a family takes a village.
Here in the Recapture Self Village you'll find a community of moms who share
the same core values of family, creativity, and identity.
Here we believe that the antidote to exhaustion is quite simply your creativity. You can be an amazing mom while also honoring yourself and your time.
---

"I LOVE the community here — I've wanted a like-minded community and the Friday getting-to-know-you posts are my favorite! Beryl is also so actively involved in the group and is such a skilled mentor and coach —  whenever she speaks, I come away with huge chunks of wisdom and greater knowledge to use in my daily life." Amy C.
---
What exactly IS the Village?
A VILLAGE MEMBERSHIP IS DIFFERENT FROM A CLASS…
and it's so much more robust than a simple "forum."
A village membership is different than a class.
There is no need to 'keep up' or 'follow along'. You life is not linear and neither is this experience. The village does have structure however. You'll be invited to explore monthly themes. There will be weekly focus lessons available via email OR within our private village website inviting you to notice, share, and act on different aspects of living a creative and purpose filled life. If you miss one week, it's ok — you can totally jump in the next week and still feel completely at home.
But the village is also so much more robust than a "forum."
Here we're about intimacy, support, meaningful connection, and curiosity. You'll feel an instant sense of friendship and belonging because the Village caps at 150 members. You won't feel lost in the crowd or unsure of where you fit because your fellow Villagers will know you, cheer you on, and provide compassion, encouragement, and commitment to your personal growth and fulfillment.
---

"I am remembering things about myself that I have not thought about for years… decades. I honestly could say I forgot that I played piano, and that I learned French, and have a double major BA in psychology and sociology. That I love, love, love to learn. I love researching, and writing papers, and taking notes. And I really can't believe that I forgot all of that about myself. So two months in to this Village I am remembering myself… and the parts of myself that I have forgotten. It's so good!!" Mandy S.
---
The Village Structure
CREATIVE BONFIRE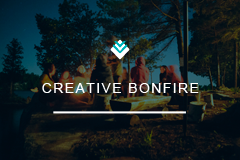 Your membership kicks off with a 1 week 'Creative Bonfire.' (next bonfire begins April 3rd) We'll uncover all the areas where your creative heart wants to play. Like that baby book you've been saying you'll print, or that room in your home you're ready to update, or that knitting project you've had in your Ravelry queue for years.
During your inaugural class you'll get support me and the rest of our community as you commit to the one or two creative projects you'd like explore and accomplish during Q2 of this calendar year.
CONNECTION HUBS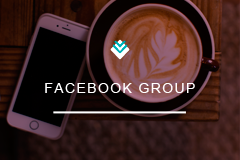 Our main spot for community connection will be through a private Facebook Group. If you're currently avoiding or limiting the time you spend on Facebook, the 'Groups App' for Facebook is a great way to connect with fellow Villagers without going down the full rabbit hole of social media.
You'll also maintain access to a private, password protected Village website with all our our monthly theme article archives, worksheets, and community call recordings.
MONTHLY CLUBS

Creativity Club: A monthly hour-long Facebook Office Hours to share, work, and be creative together! Think of it as a group accountability circle. You bring your project and we'll motivate you to make progress! We've had members come together to knit, journal, organize photos, and more.
Connection Club: This is our monthly live webinar style call. Beryl typically chats about a topic for a bit of time and then opens the floor for Villagers to receive 1:1 coaching time. Anything creativity, parenting, business, or self related goes!
Book Club: Each month we'll choose a book to read as a Village that relates back to to living a more 'creative life.' Book discussions will happen both in our Facebook group and during the monthly Creativity Club. October 2017 will bring a 6 week focused experience on the Radiate photo editing guidebook! 
Attendance in monthly clubs is 100% optional, but is part of your Village Membership. And they're a great way to enhance your experience!
---
Become A Member!
YOU'LL GET:
Access to the Village community site • Monthly themes •  Weekly creative challenges • Monthly village calls with Beryl •
For a limited time we are giving a free 6 month membership October-March with purchase of the Radiate guidebook! ($147 value)
Our next Creative Bonfire begins October 2nd. 
The 6 week Radiate 'book club' experience will begin October 13th
---

QUESTIONS, CONCERNS & BUT BERYLS??
Don't worry. I've got all the deets right here for you.
---
Is this a class? Is it a message board? How does a Village 'membership' work?
The Village is not a specific class where you'll learn a new skill like photography. It's a coaching and mentoring program about exploring what it means to live a creative life. With that being said there will still be a 'structure' in place to help you along life's journey. You will be challenged to choose a personal focus and goal each quarter. A quarterly class, monthly themes, and weekly emails will keep you moving forward in your creativity, self-discovery, and progress towards your own personal goals.
I've only taken photography classes from you. Will we do photography here? What else can I work on?
The beauty of this Village is that you will be empowered to set your own creative goal and path each quarter. That means you may be working on photography. But you could also choose another goal too whether it be another creative project like quilting or knitting, a health goal like running a 5k, or a business goal like building a website!
Do I have to be a mom? Do I need to be a creative business owner? Who is the community for?
I find most of the work I've done up until now has been with creative moms. But my goal is to grow a diverse community of creative women. If you're not a mom but resonate with the values here, you're welcome here. If you're a business owner or aspiring business owner, you're welcome here.
This is NOT a business focused space. This is NOT a parenting focused space. The Village is a space for self-discovery and personal growth which I feel are super important for not only moms and business owners — but all women in general. With that being said — we have a diverse range of conversations in our Facebook group from parenting, business, life, family, creativity and everything in between.
How big our Village become? Will this become a HUGE forum as it grows?
I am fiercely dedicated to keeping the experiences here small, intimate, and community focused. Your Village will never grow past 150 members in order to hold true to these values.

---
"I already feel like I've made friends with so many accepting ladies! In the few short weeks since I joined, I already feel my true self shining more brightly! Thank you from the bottom of my heart!" Teresa S.
---
THE VILLAGE WILL NOT BE JUST ANOTHER THING ON YOUR TO-DO LIST. That's a pinky swear, promise.
---

The Village is here to guide you in the 'way of life' you intend to lead.
You'll connect with an inspiring community of like minded women who appreciate the deeper, more vulnerable, creative parts of life – just like you.
Think of your membership as a safe space to get curious and follow your intuition. A place to be coached and mentored in prioritizing the creative process in your life. A community that values seeking personal fulfillment and self-discovery.

Will we be welcoming you to the Village this year?
---
Become A Member!
YOU'LL GET:
Access to the Village community site • Monthly themes •  Weekly creative challenges • Monthly village calls with Beryl •
For a limited time we are giving a free 6 month membership October-March with purchase of the Radiate guidebook! ($147 value)
Our next Creative Bonfire begins October 2nd. 
The 6 week Radiate 'book club' experience will begin October 13th