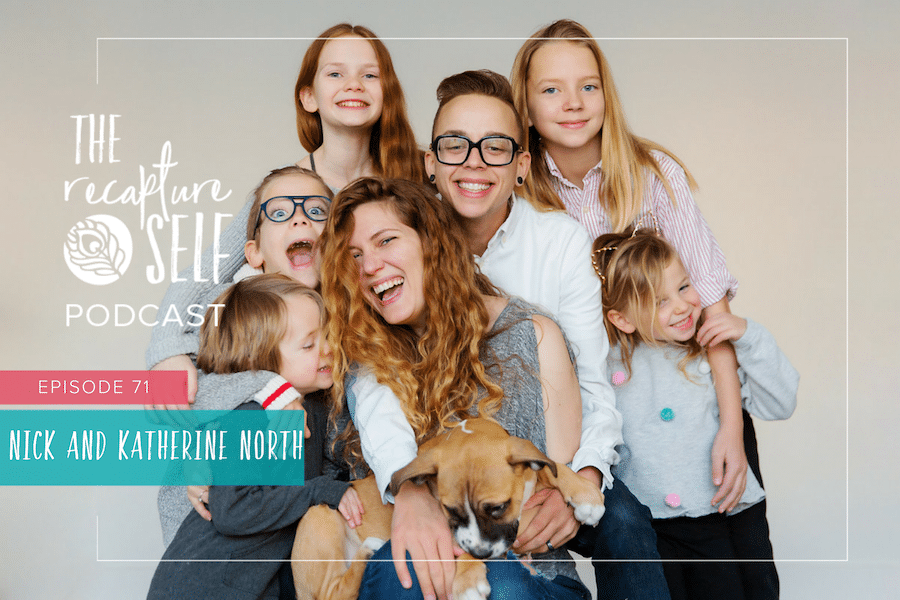 On the Recapture Self podcast it's our intention to give you a peek at the lives of people who are balancing daily life, parenthood, and a commitment to their creative selves. These are people who are making time and space for their passion projects whether that be writing a book, designing a blog, photographing their family, or running a business.
PREPARE TO BE INSPIRED BY THEIR STORIES.
This week I'm chatting with Nick and Katherine North.
Katherine was a cynic who didn't even believe in true love…until she accidentally fell in love at almost 40-years-old with her best friend, Nick.
But when they fell in love, he wasn't "Nick"… he was "Nikki." And, Nikki was pregnant with baby #4!
Assigned female at birth, Nick always knew deep down he was a man trapped in a woman's body. A stay-at-home pregnant mom and family photographer who didn't think life could ever be any different, he was stuck in a life that should have made him happy but wasn't his own.
Together, they navigated Nick's transition from female to male as a couple and as parents and as business owners.
They negotiated the challenges of transitioning while blending a family and keeping their businesses afloat. They continue maneuvering through marriage, parenting five kids, nontraditional gender roles (who pays the bills and does the dishes?,) and so much more.
With true stories, embarrassing anecdotes, and practical advice, Nick and Katherine show their audience and clients how to start taking brave steps in their own lives, wherever they are starting.
Nick and Katherine recently received a grant from Storyhive to create a documentary film about their family called "Just Another Beautiful Family" and are developing the "Beautiful Families" project which will include a conference, podcast, and supportive online community for all sorts of nontraditional families. They have appeared on numerous stages and media outlets.
Listen in to Part 1:
Listen in to Part 2:
Curious about the book Nick mentions in the interview? Find it here:  The Descent of Man by Grayson Perry
You can learn more and connect with Nick in the following places:
Nick North is a husband, a grouchy dad to five kids, and a branding strategist. He also has a history of being a woman, a wife, a mom who birthed four children, a photographer, a corporate type, and even an emergency medical responder. When Nick embraced his identity and came out as transgender, he realized just how much gender affects the way we think, talk, sell and function. He now speaks from his experience on both sides of the gender coin, empowering both men and women to live authentically and powerfully, while also making more money following their passion and their gut. Before becoming an entrepreneur, Nick hired and trained large teams for Chuck E Cheese store openings across North America.
Nick and his wife Katherine North recently won a grant to make a documentary about their marriage and their big queer family. You can find him at www.nicknorth.co or sharing many a topless photo and big feelings on Instagram @epicdanger. He wrote about his origin story here http://www.theverybestman.com/2016/10/22/a-very-full-life/.
You can learn more and connect with Katherine in the following places: 
Katherine North grew up as a missionary kid yet is now a foul-mouthed heathen mystic life coach, queer feminist, and breadwinner mother of five married to a trans man. She changed her name from Anna to Katherine North (at age 42) just because she wanted to. (Is that allowed? Yes, it is!) She might be the only life coach in the world who doesn't believe in the law of attraction. Her clients are ambitious, successful, and too smart for most of the self-help aisle — but they secretly yearn for more magic, more peace, and more grit. She helps them be bigger and braver than they ever thought they'd need to be through a process she calls "Declaring Dominion." More than 3,000 women have used her Queen Sweep program to clear their lives of clutter, she teaches sensitive empaths to set energetic boundaries in Practical Magic for Secret Mystics, and she helps kindred spirits become epic f*cking badasses in her EFBA programs. Katherine is the author of Practical Magic for Secret Mystics and The Bliss Conspiracy. She's also the founder of The Birth Story Project, a nonprofit website that curates empowering birth stories from women around the world.
She and her husband, Nick North, recently won a grant to make a documentary about their marriage and their big queer family. Before she was certified as a master life coach by Dr. Martha Beck (New York Times bestselling author and columnist for O, The Oprah Magazine), Katherine was a voice-over artist and international consultant in Tokyo. You can find more about Katherine's work at DeclareDominion.com and her experience with Nick at http://declaredominion.com/2016/09/23/my-new-husband/