A children's book is only as good as the illustrations that go along with it (IMO). Which is why it took my 3 years to get my book Phoebe The Photographer: Gets A Camera published.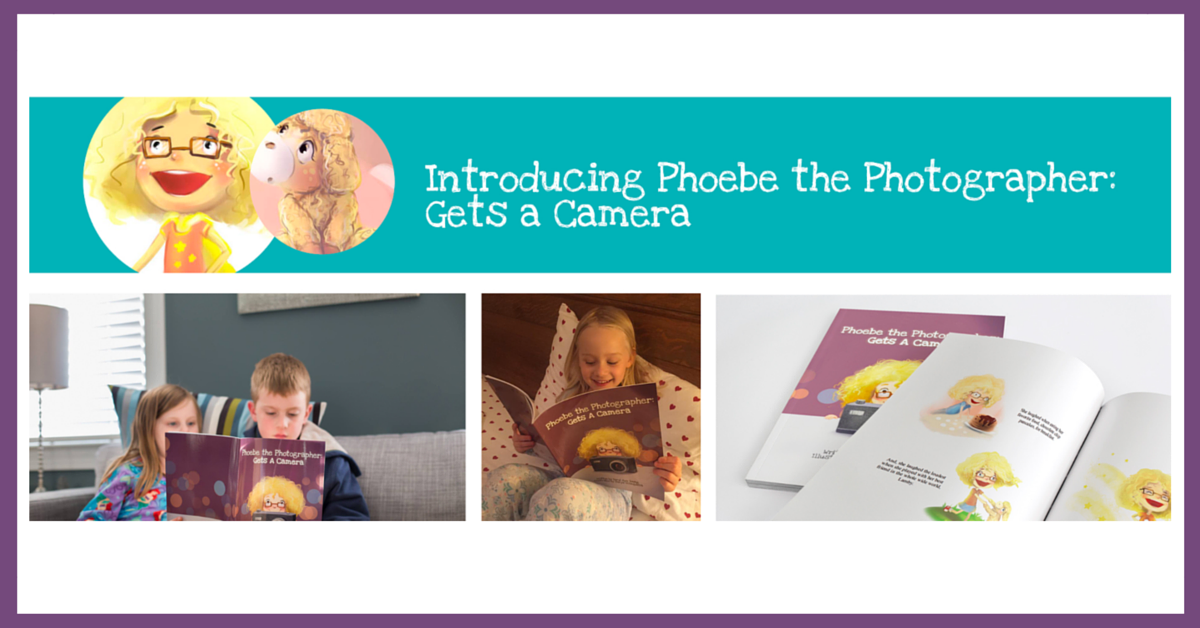 But as the saying goes, good things come to those who wait — and that was definitely the case with finding the right illustrator for this project.
Darya came into my life at a time when I was about ready to throw in the towel on my book. I had just spent a chunk of money and time on an illustrator who went MIA weeks after the initial book sketches were completed.   The website I used, Fiverr, had a wide selection illustrators, but none really matched my style and I was weary of falling into the same trap of having a new illustrator drop me mid project.
Then one night, during a bout of late night insomnia, I decided to give Fiverr a browse and found Darya's whimsical yet vibrant page.  There was just one problem, according to her description — she wasn't taking on full book projects.
Something told me to message her though, so I did sharing my story and the trials with getting it published,  hoping she'd be willing to make an exception. Lucky for me, she said yes because Phoebe came to life even more perfectly than I had visioned with Darya's talent.
I'm SO thrilled to introduce you to her today, over the past 6 months Darya's become a lovely friend and I can't WAIT to combine forces again on a future book. (oh yes…a sequel will come…eventually ::wink::)
Name
Darya Shchegoleva
Where do you live?
Saint-Petersburg, Russia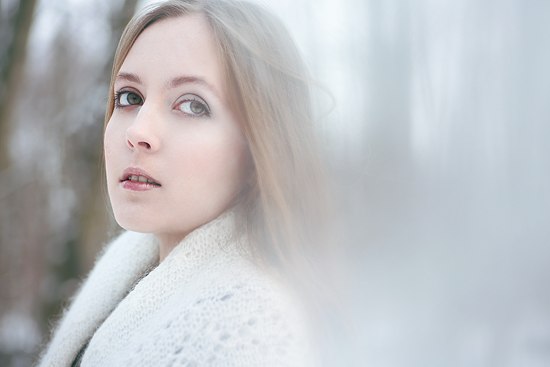 How long have you been drawing illustrations?
Since I was 18. I started as a self-taught graphic designer, but realized I love to draw illustrations for my design projects much more than design itself.
Tell the story of when you knew you wanted to illustrate children's books.
Actually, I wanted to illustrate children books as long as I remember. I didn't know how to become an illustrator (when I was a kid I couldn't connect beautiful bright pictures in my book to an artist's work. Leonardo da Vinci never painted children's book and he was the greatest artist of all time). Because of this confusion, my way was so long – through graphic design, cultural studies, game development and promo materials for kid's products.  Only last year I could finally focus on children's books and I hope it's just a beginning of a beautiful journey.
When I was a kid I there was this book – I could read it forever and my parents almost hated it, I asked them to read it a billion times. 15 years later I found it in my parent's closet – there were my drawings all over it, on every page. And I clearly remember I never wanted to ruin this book, I just meant add my own vision to its illustrations. It felt like me and the artist were on the same page (well, we literally were).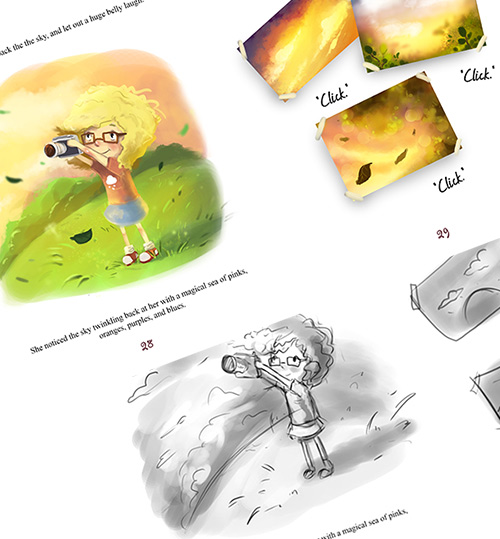 What's your process like? Do you sketch on paper pencil? How do you bring your book characters to life?
When I read a text, I usually have some instant images in my head. I try to look at the story as an author – what did he want to say? What kind of picture did he have in his head, while he was writing these lines?
The idea of only having one beautiful sketchbook never worked for me; instead I've got a bunch of different notebooks and paper blocks all over the house and in every bag of mine. If I have an idea for one of my current projects or just a personal drawing, I can randomly use one of them and make a quick sketch.
What medium do you use to add color? (I assume you use digital illustrations, tell us about that…)
I create my works in photoshop. Even if the initial sketch was on paper, I just redraw it digitally and paint over it.
I love digital illustration for a range of opportunities – it gives you a freedom to experiment and explore new methods and styles.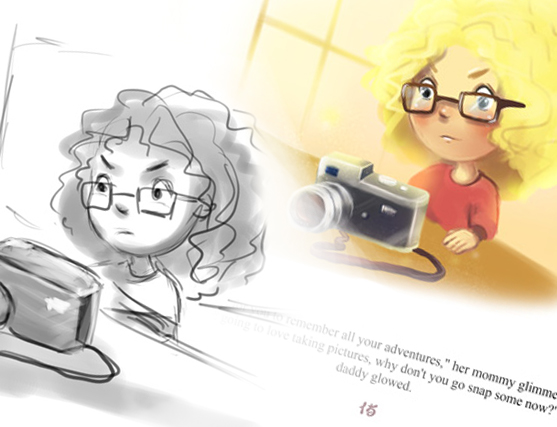 I know you are still a student. Do you have a bigger dream for where this illustration journey will take you next?
I'm a student and I study stage design for puppets theatre. I was always a huge theatre fun and always wanted to do something "real" with my hands, literally bring to life something special. I love kids, I always knew I wanted to do something for them – teach them, entertain them, give them a chance to see how beautiful this world is and maybe help them to find their way in life. So, all my career hopes are based on this desire.
I want to master my painting skills, explore new techniques and media. Actually, my favorite illustrator is Eve Tharlet. I remember being blown away by her watercolor picture books. I could (and sometimes I still do) look for half an hour at some pages, just enjoying simplicity of lines, perfect colors and adorable characters she creates. I wish one day I could do something similar.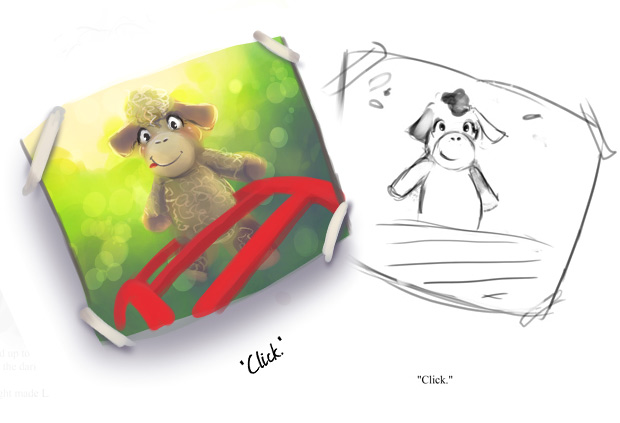 Do you have other creative interests?
I love traditional oil and watercolor painting, love to study human body in drawing class. When you create puppets (or dolls, or hand made toys) you should be able to combine all sorts of crafts – sculpting, sewing, carving, needlework, felting and god knows what else. It's exciting to try them all!
And my favorite and the most practical creative interest is cooking! I can spend the whole day in the kitchen, and baking definitely is a kind of magic I love!
Want to know more about Darya, her illustrators, or the magic of the Fiverr website. Check out more of Darya's work on her Fiverr page HERE. And if you still haven't ordered your copy of Phoebe The Photographer: Get's A Camera, go get it HERE.

Want to know how 41 professional photographers and creative experts make photography fun for kids who want to get behind the lens?
You can download this FREE guide to get all their advice in one epic PDF!
[magicactionbox id="9835″]