Today I'm chatting with Megan Flatt, a business growth strategist committed to showing Mama CEOs that it is possible to build a thriving business while staying present for the other things that matter in our lives (like our little roommates). You'll almost always find a stash of post-it notes in her bag, a latte in her hand, and at least one lego figurine in her pocket.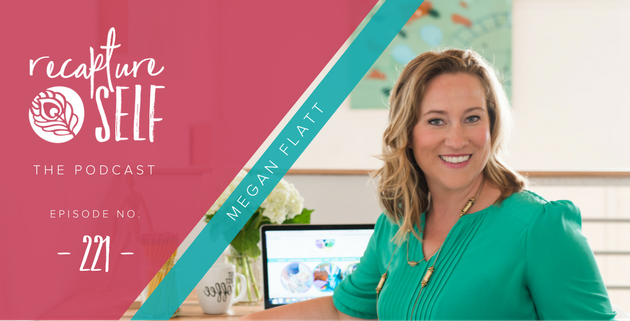 Now before we dive into our conversation I want to say that Megan is a planning and calendar expert. If you don't own a business or don't ever have aspirations of owning one you will still get so much value out of our chat today. Megan and I have been business BFFs for a long while – we even dabbled in some co-teaching projects and joint retreats back in 2014.
Today Megan and I connect over so many topics including:
The place where business and creativity meet and how they are closely related to one another.

Why the idea of BALANCE is a myth as a mom and what you should seek instead

How creating structure in your life can lead to less guilt

And the importance of scheduling PLAY into your days.
HOMEWORK: SNAP A PHOTO THAT SHOWS HOW YOU'RE "SCHEDULING IN PLAY" THIS WEEK. COME FOLLOW @BERYLAYNYOUNG ON INSTAGRAM. USE THE #RECAPTURESELF WHEN YOU POST. I'LL SHARE OUT SOME OF YOUR POSTS THIS WEEK!
If you're ready to get your next big idea into the world while keeping your sanity as a mom, download her free guide "Launch Like a Mother" here. http://meganflatt.com/launch
Did you know we also have a completely free community group? Our 52 Moments Recapture Self community is a place where photography, creativity, and motherhood collide. Join the community at this link, say hello, and look for our live video chats each Wednesday and new weekly photo prompts every FRIDAY: http://momtography.club/community
Last but not least, have you subscribed to Recapture Self on  iTunes yet? If not head on over there now, get subscribed and don't forget to share your love of the show with a review. While you're there please do subscribe and share this podcast with your friends too.