Today I'm chatting with Alicia Bruce, my neighbor and business BFF.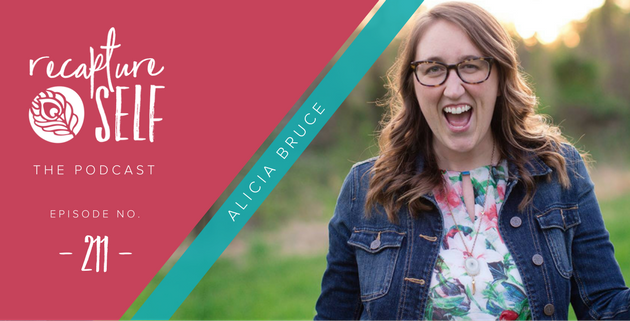 Alicia proclaims herself to be an awkward and geeky dreamer and believer in magic. She's the the girl who wears Converse with dresses, prefers jumping on a trampoline to doing squats, drinks bourbon when she's casual and Scotch when she's fancy, and could name all of the Mercury 7 astronauts, but not a single Real Housewife.
When she decides to adult (which is more often than she likes to admit) she's the photographer behind the brand Love Knot Photo rocking her camera shooting weddings, small businesses,  and brands she loves.
In this episode join Alicia and I as we chat about:
Allowing your biggest transitions in life to be your greatest teachers — ones that can easily open the door to a creative revival in your life.

Why being selfish is a GOOD thing – and how being selfish can actually make you a better mom.

Plus Alicia sheds light on how she chooses which creative projects she charges for and which she keeps just for herself – because setting boundaries around your creative projects – especially when your interests are vast and varied is hugely important to your overall well being.
HOMEWORK: SNAP A PHOTO OF YOU SHOWING OFF HOW YOU'RE BEING SELFISH IN YOUR CREATIVITY THIS WEEK. COME FOLLOW 'RECAPTURESELF' ON INSTAGRAM. USE THE #RECAPTURESELF WHEN YOU POST. I'LL SHARE OUT SOME OF YOUR POSTS THIS WEEK!
Also, If you liked this episode it would mean the world to me if you'd head on over to iTunes and leave some love in the form of a review.
If you help spread the word I'll send a bit of snail mail from ME to You!
3 Ways To Earn An Entry:
Subscribe to Recapture Self in iTunes or Stitcher

Leave a review on iTunes: (

how to leave a review via an iPhone HERE

) you can also leave a review directly in iTunes – search for recapture self, click on 'ratings and reviews' and then 'write a review'.

Share your love of the Recapture Self Podcast via Facebook OR IG : be sure to tag @recapture and/or use the hashtag #recaptureself
How to Enter the Snail Mail Contest
Don't forget to do one (or more!) of the supportive tasks above

Fill out this form here :

https://goo.gl/forms/GIw3rEFNDol2jAG12