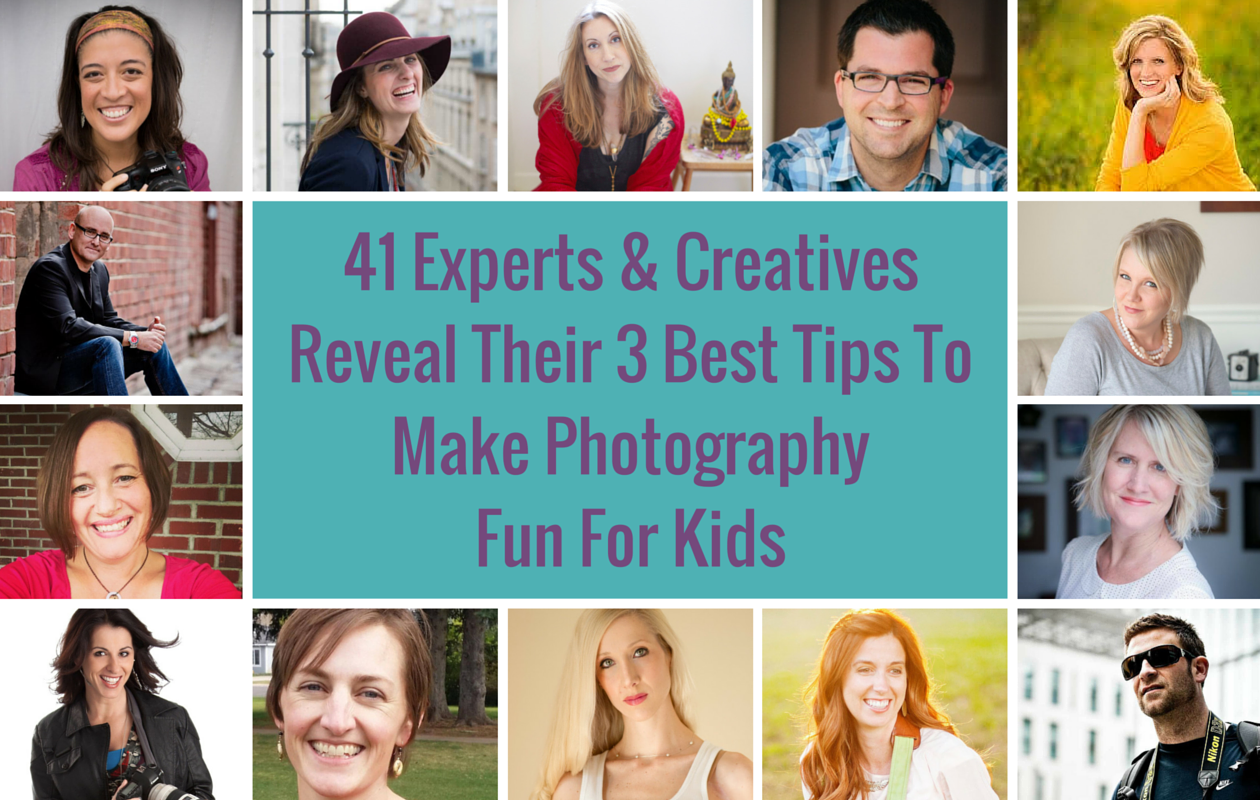 You may be the primary memory keeper for your family, but that doesn't mean that you have to be the only one.
Kids love cameras!
I've seen first hand through my experiences teaching in elementary schools and with my own daughter how photography can educate, inspire, and connect the entire family.
I'm so passionate about this topic that I even released a children's book about it.
The book, Phoebe The Photographer, is a heart warming story about a little girl who falls in love with her camera. (you can snap up your copy right HERE if you'd like!)
Writing this book got me thinking about how we inspire our kiddos to love photography as much as we do.
One question that's been on my mind as my own daughter has become more and more interested in the camera is:
How can I make learning photography fun for kids?
I want to both teach my daughter the basic rules of finding light and composition but in a way that is still inspiring and enjoyable.
So with that in mind, I reached out to 41 of the world's leading photographers, photography brands, and creatives kid activity bloggers including: Photo Mom Me Ra Koh, Chase Jarvis of Creative Live, Courtney Slazinik of Click It Up A Notch, Jamie Reimer of Hands On As We Grow, Sarah Wilkerson CEO of Clickin Moms, and Sandy Puc Photographer and Co-Founder of Now I Lay Me Down To Sleep.
I asked each one:
What tips would you give to make learning photography fun for kids?
Wow! Was I blown away with the responses.  The advice these experts shared will inspire you and your kids for days with new ideas for taking pictures together.
If you're looking for ideas to keep you and your kids busy and have fun together with a hobby you will both love, keep reading.
All 42 of their responses – in their own words, are below.

No time to read the whole thing right now? Don't worry!
You can download this entire post as a PDF and read it when it's convenient.
[magicactionbox id="9835″]

Encourage them to shoot a lot of photos.  I mean a LOT. No limits
Review images they shot with them later.  Find out which one they like… Ask them and show enthusiasm.  This will make them want to shoot photos more often.
Print and frame some of the favorites… And repeat steps 1 through 3
[bctt tweet="Photo tip for kids #1: Encourage them to shoot A LOT. @chasejarvis #photography #parenting" username="berylaynyoung"]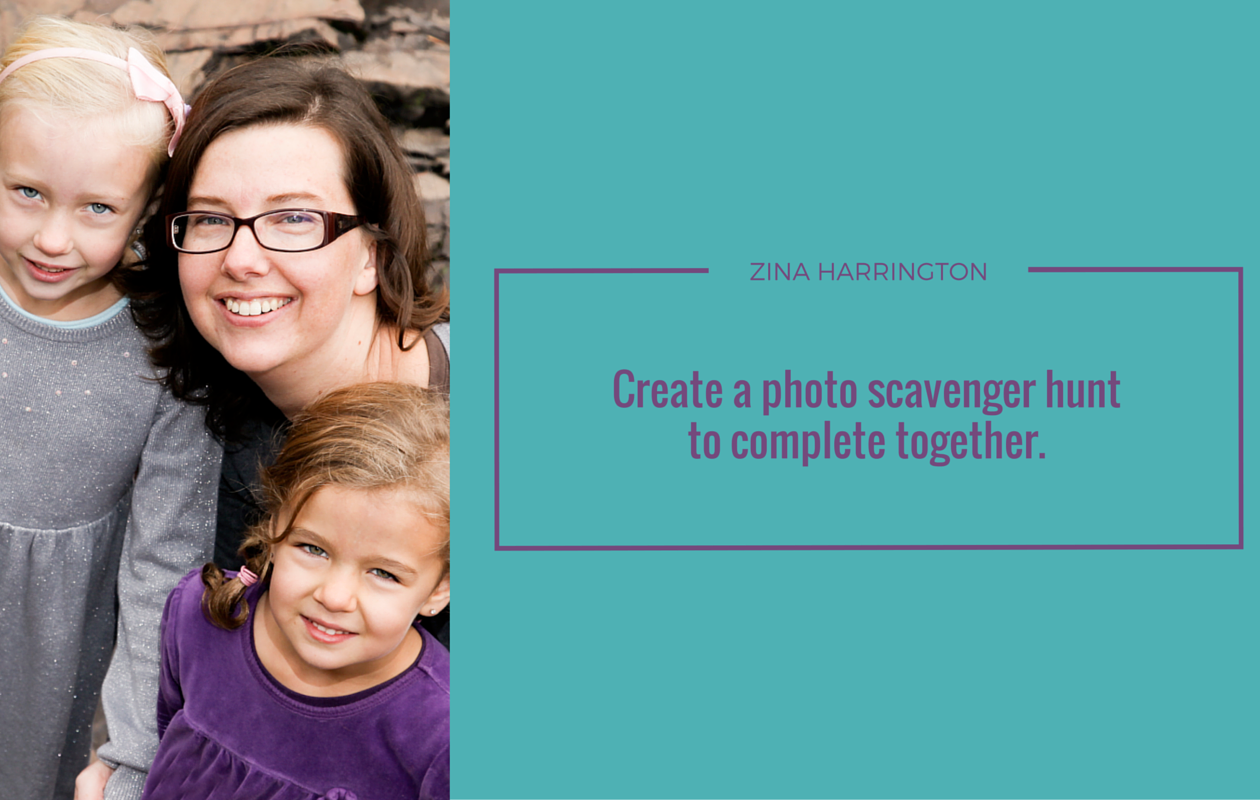 One of my favorite ways to inspire my daughter's interest in photography is to create a photo scavenger hunt for us to complete together. This activity can be done in the house or outside and can be modified to fit your little one's skill level.
With young kids, it is fun to stick with basic items around the house (i.e. the cat, a toy, a flower). As your child gets older, you can work on more complex items (i.e. a specific emotion, a macro photo, backlighting). Photography is a wonderful hobby to share with our children. It helps us (and them) slow down and notice the beauty in our world.
[bctt tweet="Photo tip for kids #2: Create a photo scavenger. @LassoMoonLight #photography #parenting" username="berylaynyoung"]

Courtney Slazinik
Photographer
Founder of Click It Up A Notch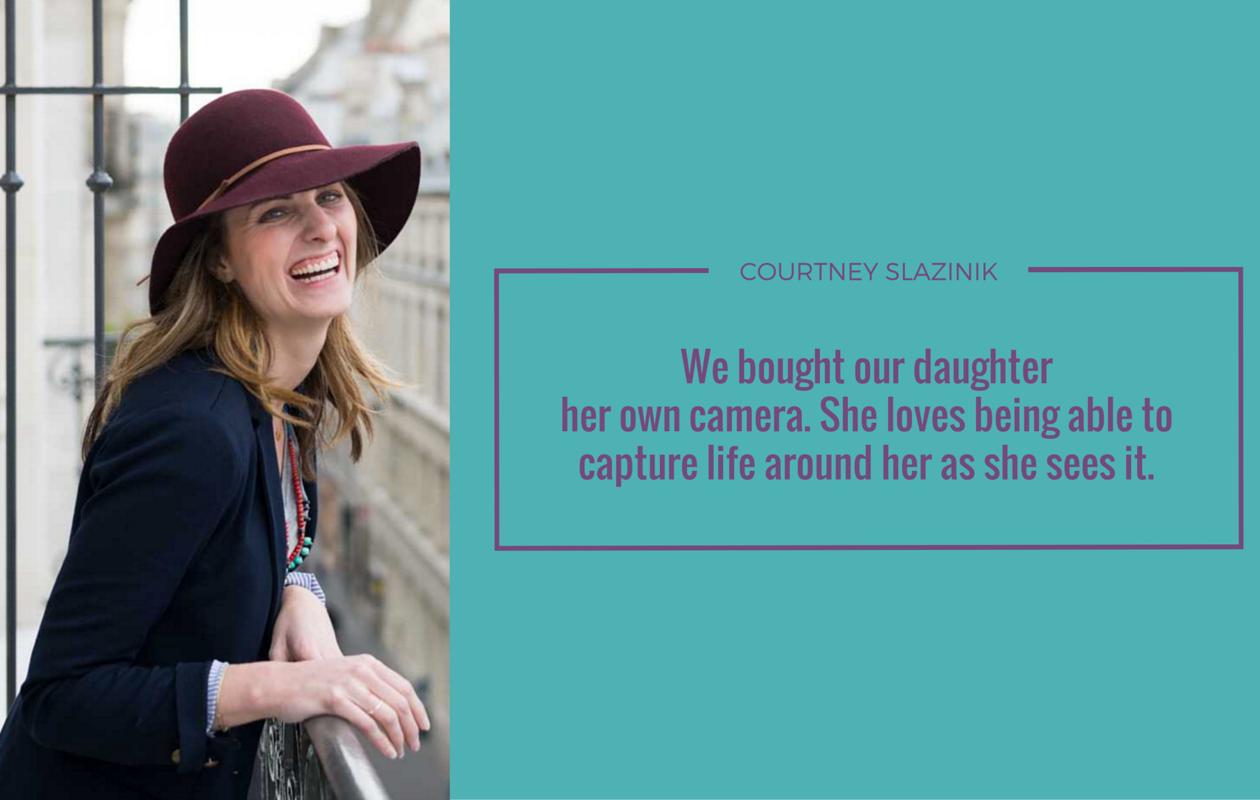 Teach them the basics: Talk to the about the importance of natural light and turning off overhead light. This simple technique can make a huge difference in their photos. Also, talking about Rule of Thirds is a great beginner composition guide to start with.
Print their photos. If they are busy taking photos take the time to print them for them. We all love holding our images in our hands. Whether you print single prints or a little book, they will cherish seeing their photos.
[bctt tweet="Photo tip for kids #3: Get them a camera of their own. ~Courtney Slaznik #photography #parenting" username="berylaynyoung"]

Tiffany Dahle
Creative Blogger at Peanut Blossom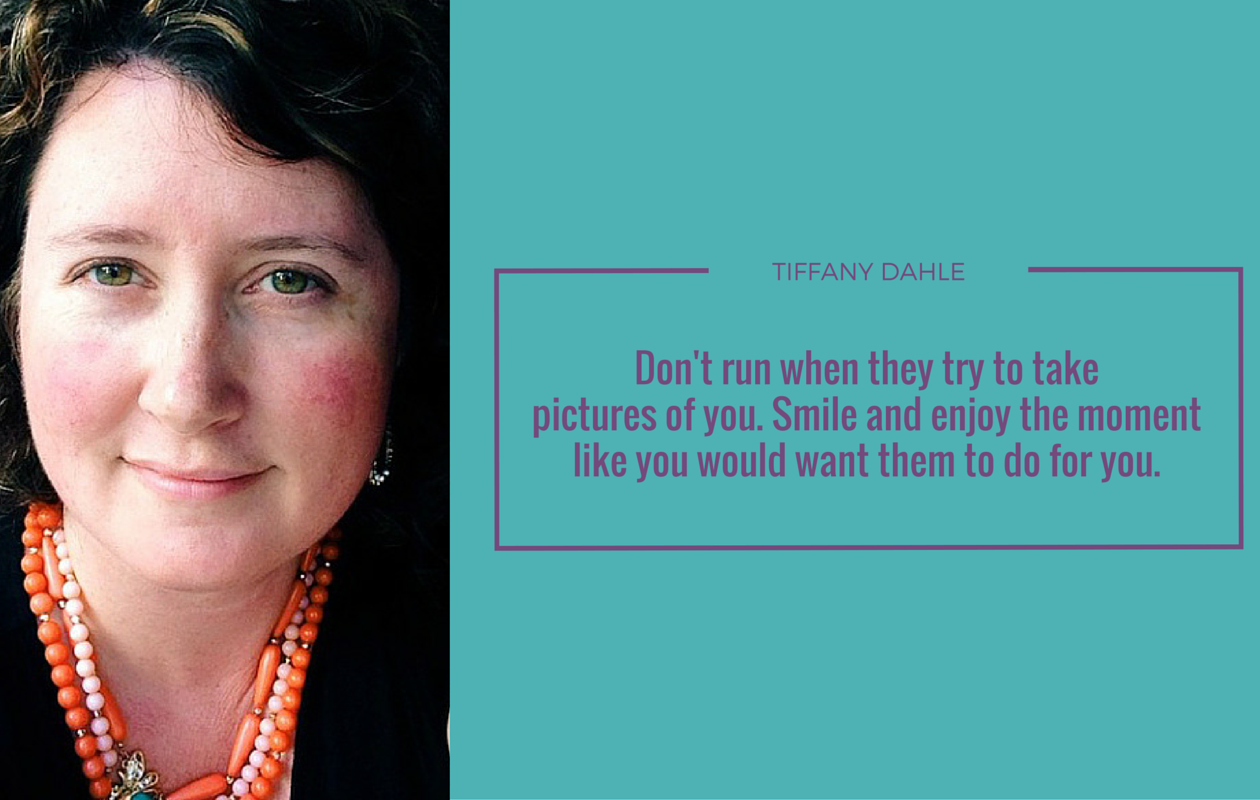 Don't run when they try to take pictures of you, smile and enjoy the moment like you would want them to do for you.
Make sure they have a neck or wrist strap for the camera or a solid case for your phone before letting them take pictures. When they don't have to worry about anything getting broken, it increases their confidence.
Display prints of their photos someplace special so they feel like their memories and creative eye are important.
[bctt tweet="Photo tip for kids #4:Don't run when they try to take pictures of you. @tiffdahle #photography #parenting" username="berylaynyoung"]

Maggy Woodley
Creative Blogger at 

Red Ted Art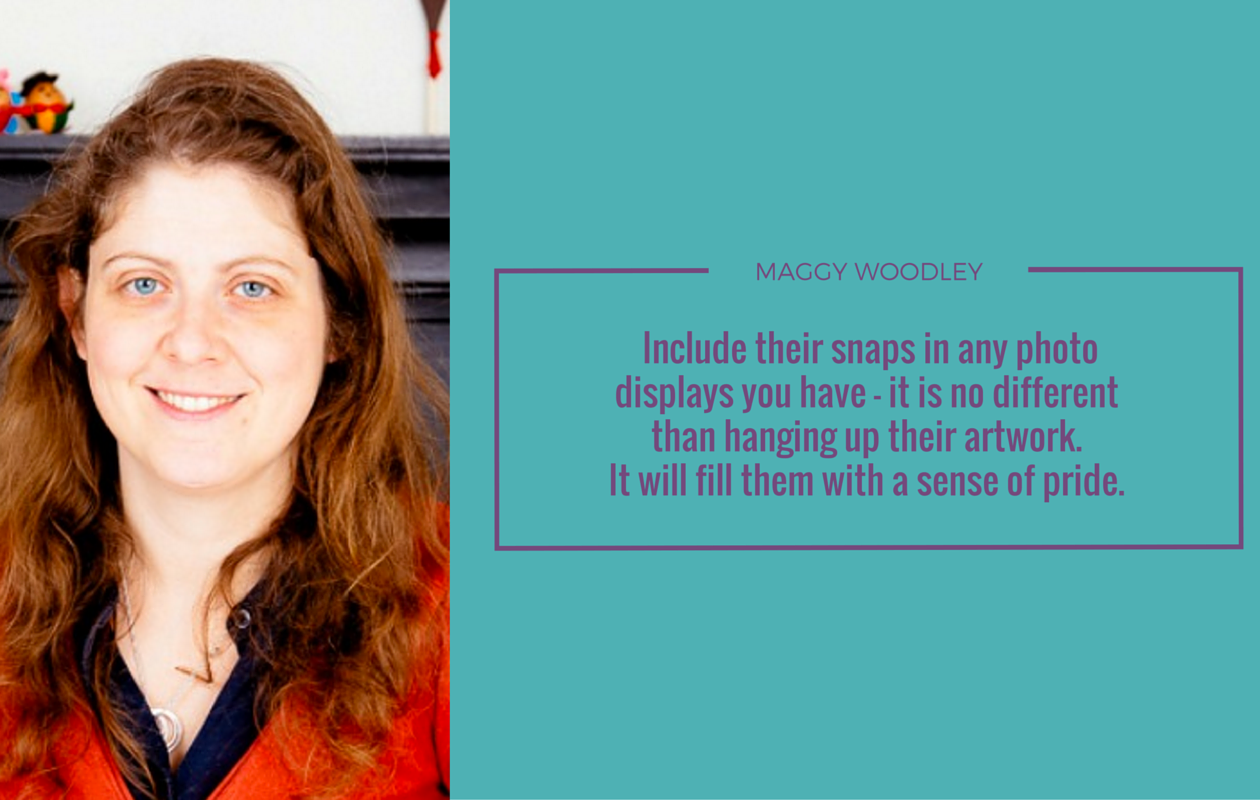 Make it real – ie let them use real cameras and not kids cameras. I actually think smart phones are the best for kids, as the photo quality is usually pretty good, you can teach them about focussing etc AND they are not too heavy for them to handle.
Include your children's snaps in any photo displays you have – let them choose what they want to display – it is no different to hanging up their artwork. It will fill them with a sense of pride
There are lots of photography related games you do with kids – the simplest is going on an object or colour hunt (indoors or out) and letting them photograph the things they find. You can incorporate this on family outings and it is also a great way to ensure that YOU get into some snaps too. I am always the one taking photos, so am in very few myself. I now make a point to make sure every outing includes a photo of me.. I need proof that I was there.. and my kids are perfect photographers to capture that moment
[bctt tweet="Photo tip for kids #5: Include their snaps in your photo displays. @RedTedArt #photography #parenting" username="berylaynyoung"]

Trisha Hughes
Photographer
Creative Blogger at Eat Your Beets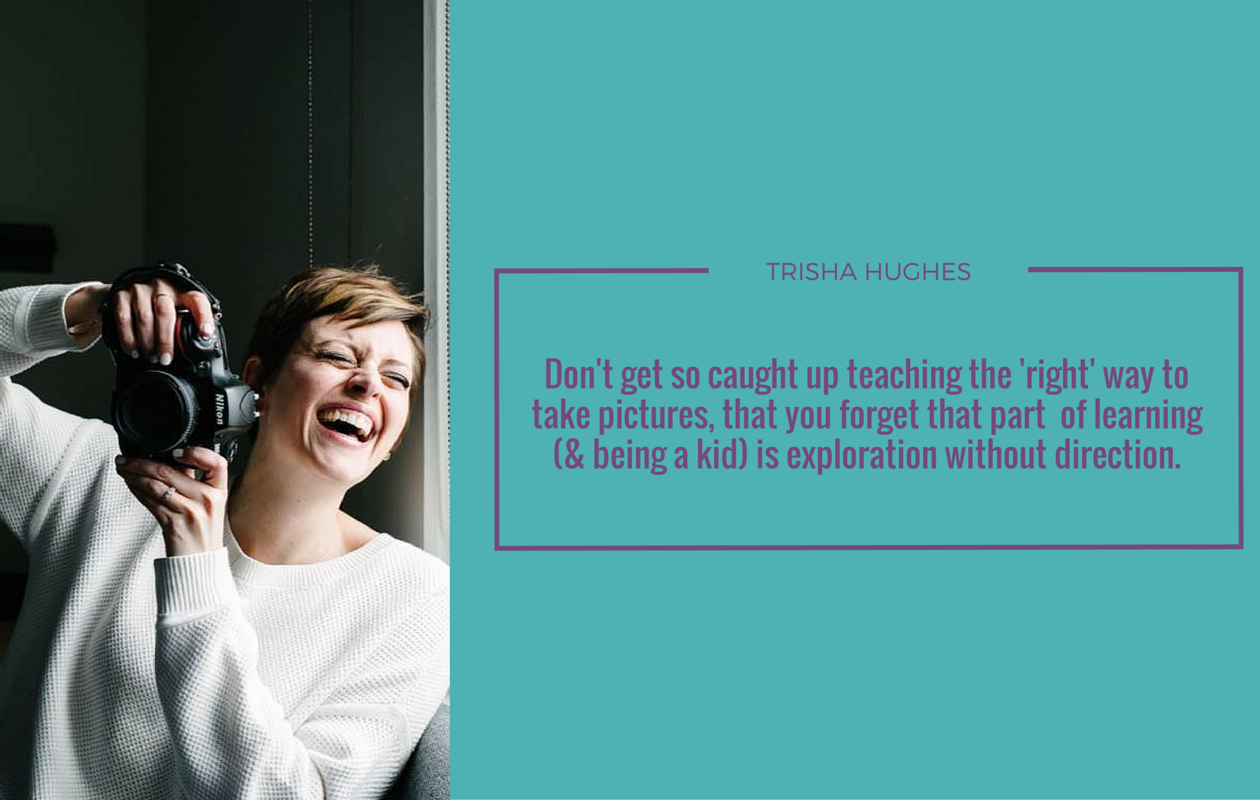 The first tip I'd give to make photography fun for kids is for YOU. I think sometimes we get caught up in wanting to teach our kids the 'right' way to do things & forget that part of learning (& being a kid) is exploration without direction. If you're trying to teach an older child manual mode, for example, don't get frustrated when they get everything mixed up or just decide they don't even want to learn it at all. Remember to have fun & don't get too serious.
Secondly, I know my kids always want to SEE the images they've taken. I think it's fun to allow them to upload the images & maybe even print a few if you can. Don't even worry about print quality. Just upload them to an app & print them off at Target or another walk in place.
Teach them a few rules of composition to create an interesting image. When I was teaching my older son photography, he really thought it was fun to learn about some of the rules of composition like rule of thirds or negative space. If they are already doing these things naturally, make sure to point them out!
[bctt tweet="Photo tip for kids #6: Teach that there is no 'right' way to take pictures. @goeatyourbeets #photography #parenting" username="berylaynyoung"]

Dan Milnor
Photographer
Photographer at Large with 

Blurb Books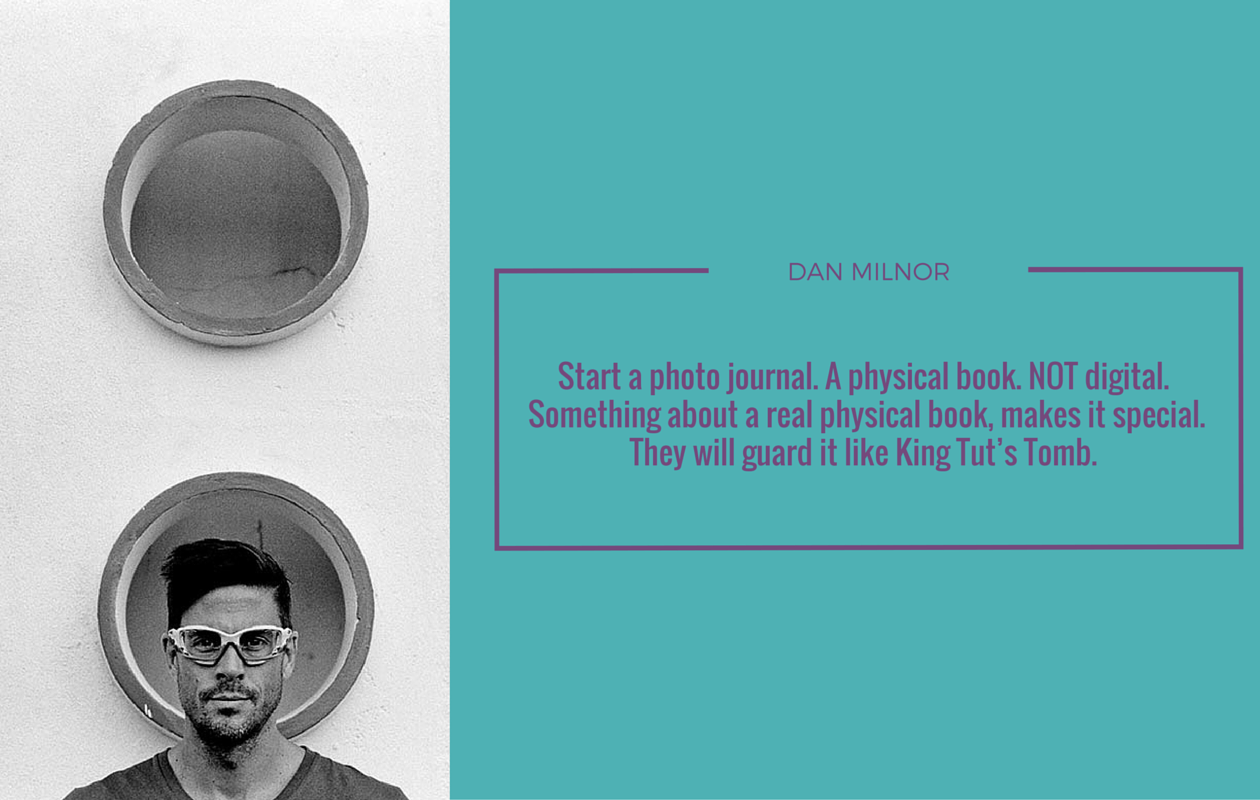 Sit on the floor when you teach them about the camera. Kids are fascinated by the workings of the camera, film or digital, and that is a great way to hook them in. I used to sit with them and they would watch me load my Hasselblad. It was a guaranteed connection.
Start a photo journal for the kids. A tangible, physical journal. NOT digital. They will drift and get bored with digital, but with something their very own, a real physical book, they will guard it like King Tut's Tomb. Emphasis it's THEIR book, no right and wrong, a place to dream on paper.
Buy a Polaroid or Fuji Instax camera so they can post prints in their journals. Emphasize they only have "X" amount of images per day, so the images become special and not an endless stream of digital snaps which will ruin their ability to actually see what is around them.
No selfies. This is an epidemic and the sooner we find a vaccine the better off we will be. Teaching them to turn the camera on the world will make them better human beings.
Have the kids share their books with each other, so brother talks about sister and vice versa. What they like about each other's work. This helps them with confidence. If their arch rival has something nice to see about their book then maybe its' okay.
[bctt tweet="Photo tip for kids #7: Start a photo journal A physical journal, not digital. @Smogranch #photography #parenting" username="berylaynyoung"]

Jen Doolittle
Photographer
Creative Blogger at 

Song Bird & Bear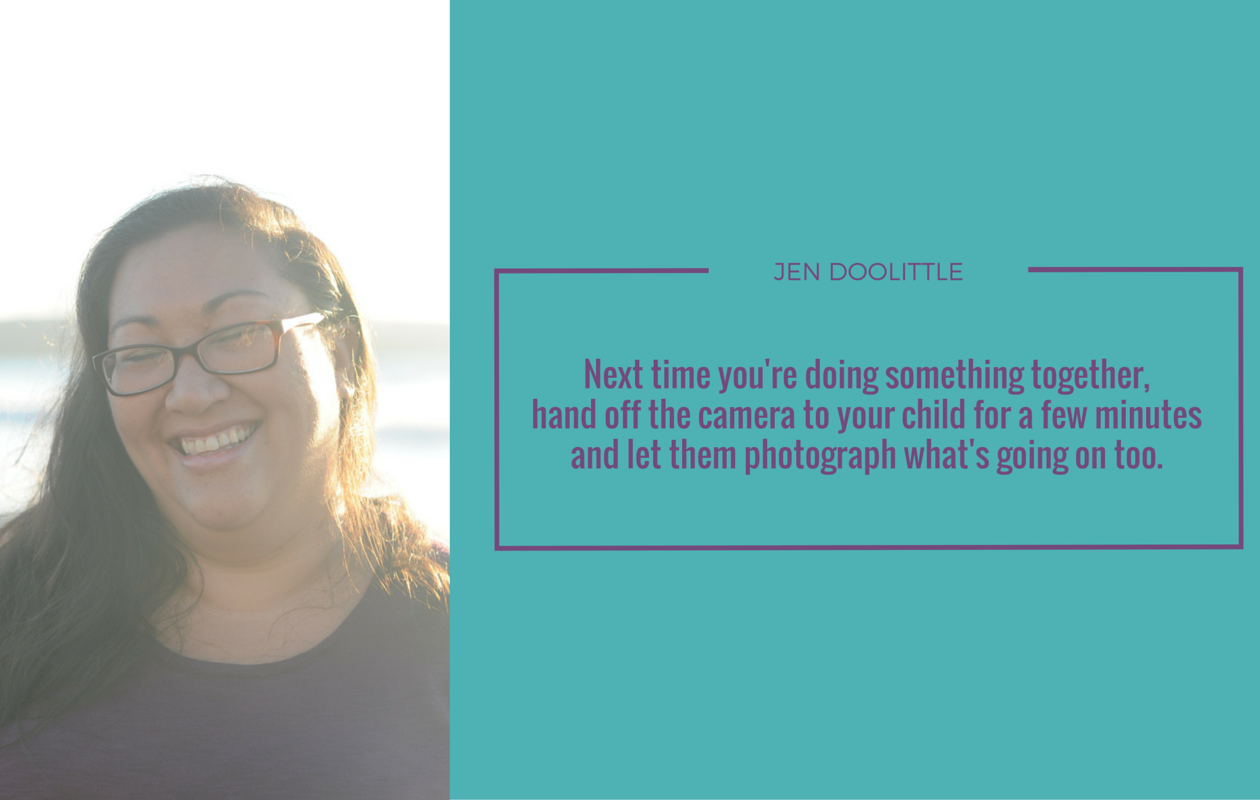 Make it a game. Photo scavenger hunts are a good, easy one. Brainstorm a list together and then go out and photograph everything on it. Bonus is that it's a creative push for you as well! When you get back, look to see how everyone interpreted each of the prompts.
Give them the opportunity to share their perspective. Next time you're doing something together, whether it's at home or on a family outing, hand off the camera to your child for a few minutes and let them photograph what's going on too. Kids have a unique perspective and it's interesting to see what catches their eye and is important to them.
Print up their photos. Whether you sit down together to make a book or just print them at home on computer paper, I think having their pictures come to life fills kids with a sense of pride.
[bctt tweet="Photo tip for kids #8: Hand the camera to your child next time you go out. ~Jen Dolittle #photography #parenting" username="berylaynyoung"]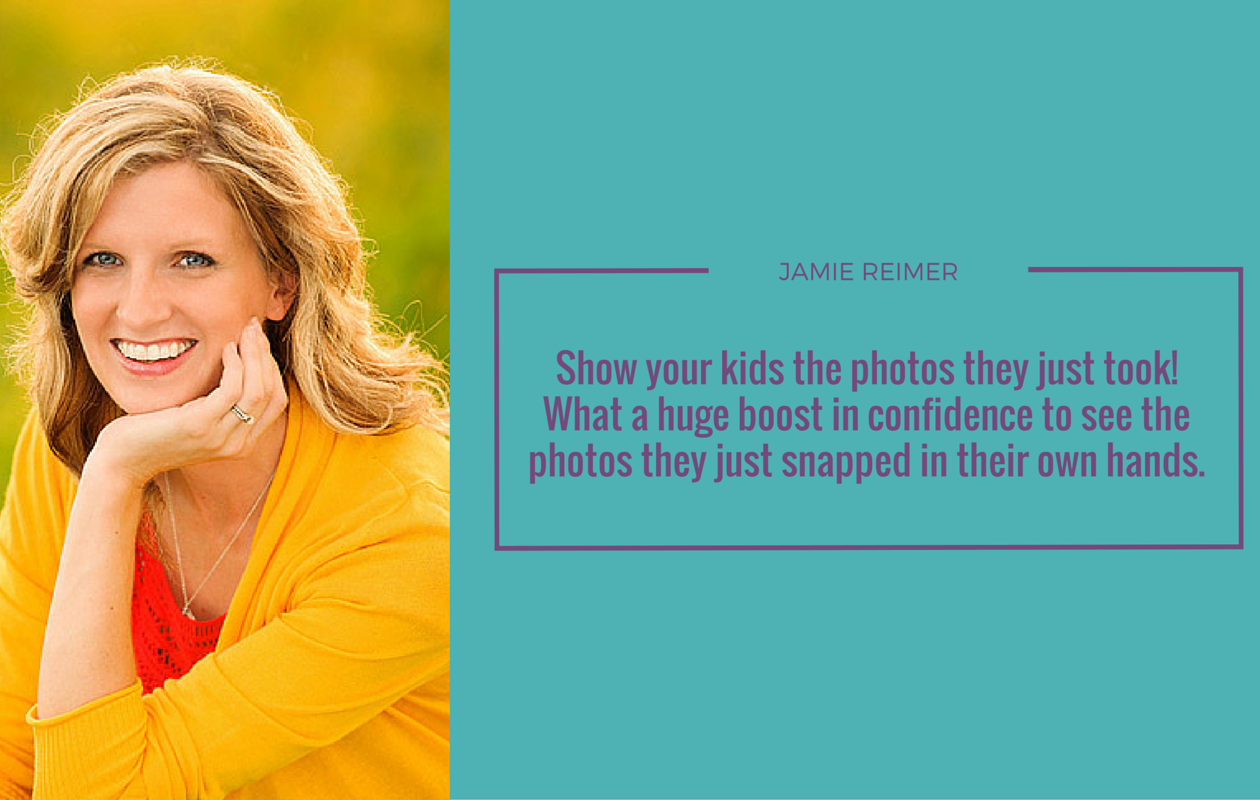 I'm a mom that enjoys doing activities with my kids, to spend time with them, but also teach them things along the way that they might not pick up at school. My middle child loves to take photos and surprises me sometimes with the snapshots he takes. My 3 tips would be:
1) Let them use your equipment. I know this probably goes against what most photographers would say because cameras and lenses are quite expensive. And normally, I would love to say to let them use an old camera of yours. However, I think there's something so intriguing to your children to use something that you, yourself use. They get the chance to do what you do.
2) Make it an activity with photographs in mind. My kids could just take snapshots all day and we'd have 100 photos of their feet or their lovey. Having a quick scavenger hunt for them to snap photos of their findings, gives them a goal to look for and you may just have some interesting shots! If you want snapshots of something interesting, make your scavenger hunt about that – like "take a photo of your brother riding his bike." or "take a photo of a drawing you make on the sidewalk."
3) Show your kids the photos they just took! Get them on the computer and show them! Get a few printed off – make it official (even if its just from your own printer)! What a huge boost in their confidence to see their photos in their own hands.
[bctt tweet="Photo tip for kids #9: Show your kids the photos they just took! @handsonaswegrow #photography #parenting" username="berylaynyoung"]

Kristen Duke
Photographer
Creative Blogger at 

Capturing Joy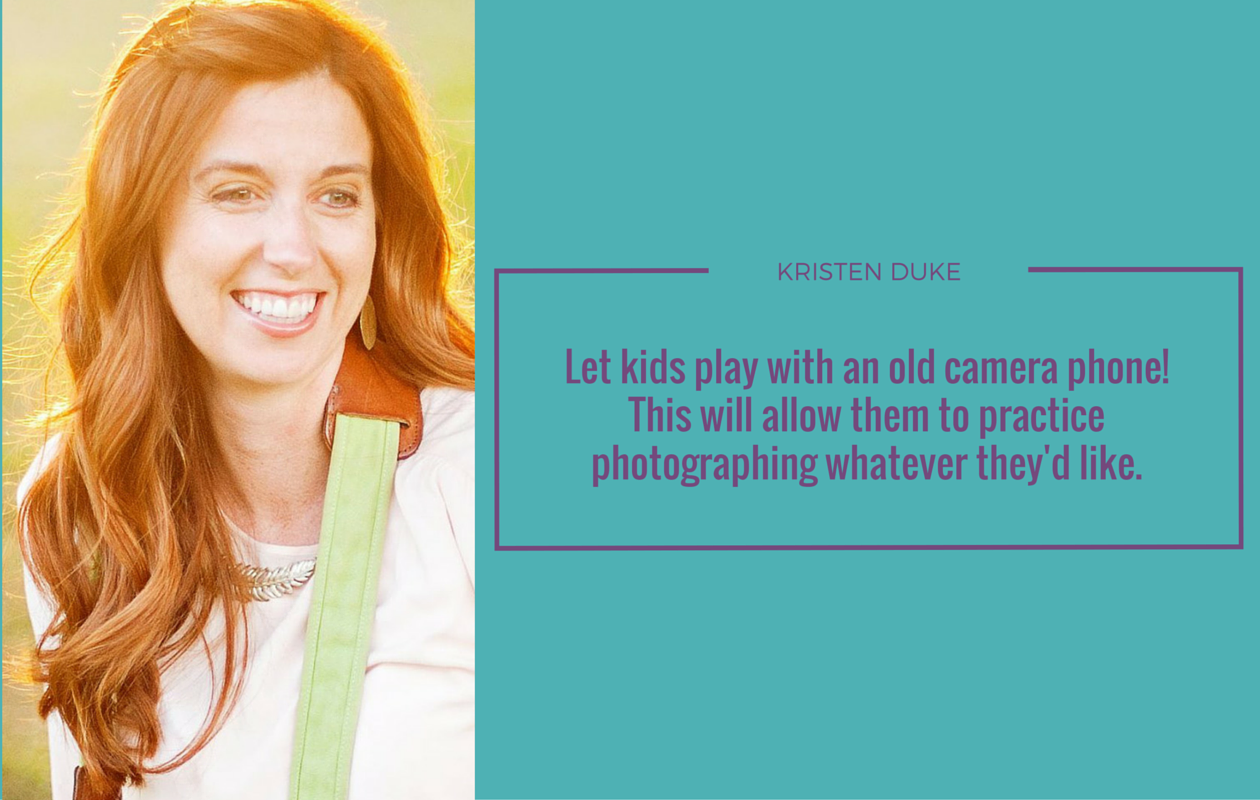 Let kids play with an old camera phone, to practice photographing whatever they'd like.
As they practice, point out things like shooting above people for better angles, instead of below.
Make it a scavenger hunt, give them a list of 10 items to photograph, and see what they come up with!
[bctt tweet="Photo tip for kids #10: Let kids play with your old camera phone. @kristenduke7 #photography #parenting" username="berylaynyoung"]

Mitchell Glick
Senior Marketing Manager at 

Canon USA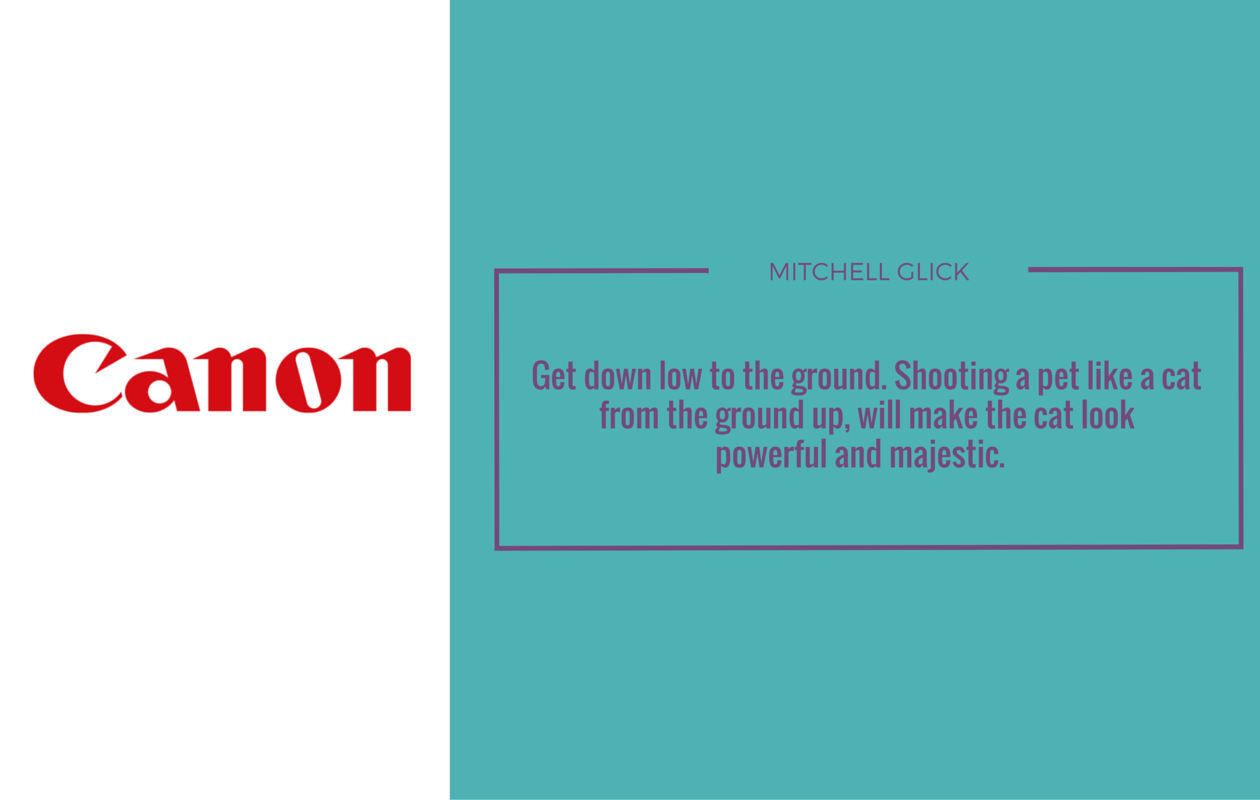 Practice high shutter speeds and jump shots! They allow you to freeze action (like a superhero).
Get down low to the ground.  Although this tip is good for photographing babies, it works well when photographing pets too. Shooting a cat from the ground up, makes the cat look powerful and majestic.
Teach them to focus on the eyes. When they take photos of people, put the focus on the eye closest to you. If the eyes are not in focus, it can be very distracting to the viewer.
[bctt tweet="Photo tip for kids #11: Get low to the ground for a unique pet perspective. @CanonUSA #photography #parenting" username="berylaynyoung"]

Me Ra Koh
Photographer
Creative Blogger at 

Me Ra Koh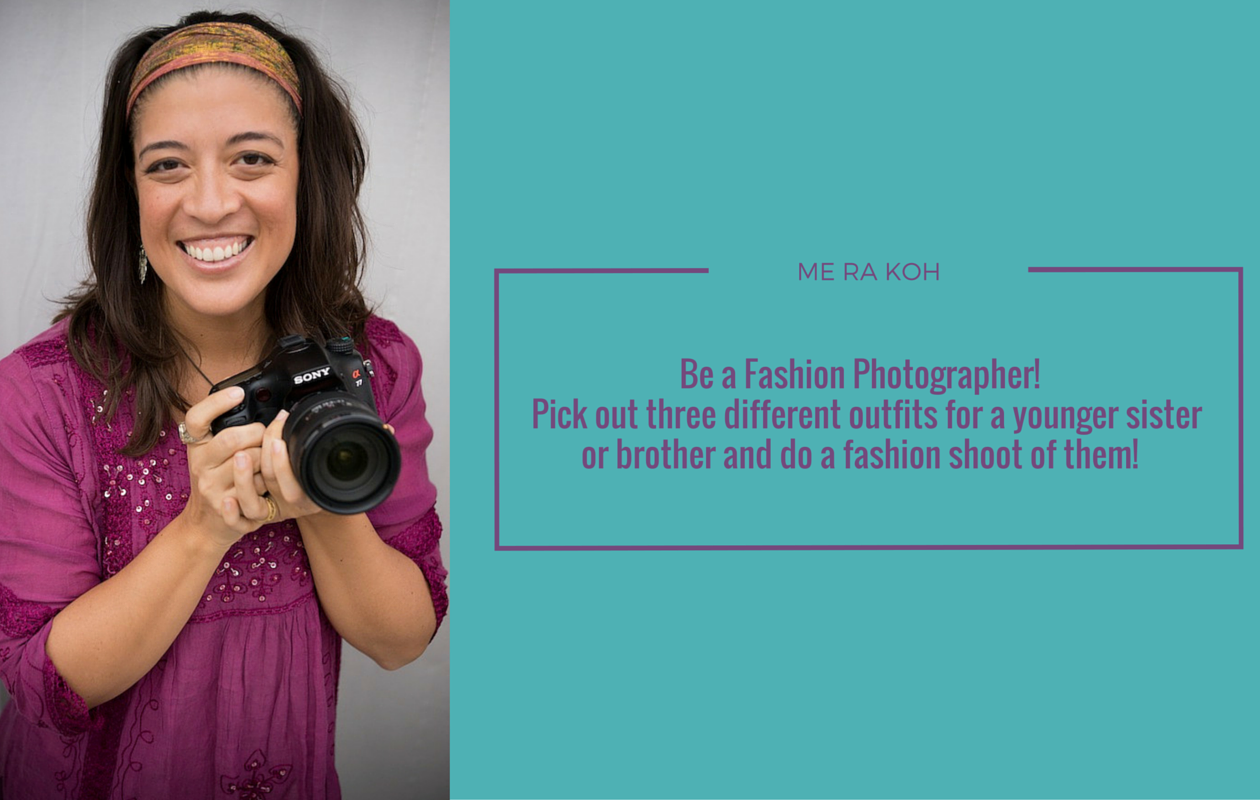 What are your ten most favorite things in your bedroom?  Take photos of those ten things and get in real close for each photo.  Now take your camera outside and photograph the ten most beautiful or interesting things you see.  Be sure to share them with your family.
Be a Fashion Photographer!  Pick out three different outfits for your younger sister or brother and do a fashion shoot of them!  Tell them how to pose, where to look and when to smile or be serious.  Be sure to tell them what a good job their doing too.  A happy photographer helps models be happy for the camera!
[bctt tweet="Photo tip for kids #12: Pick out outfits and do sibling fashion shoot. @merakoh  #photography #parenting" username="berylaynyoung"]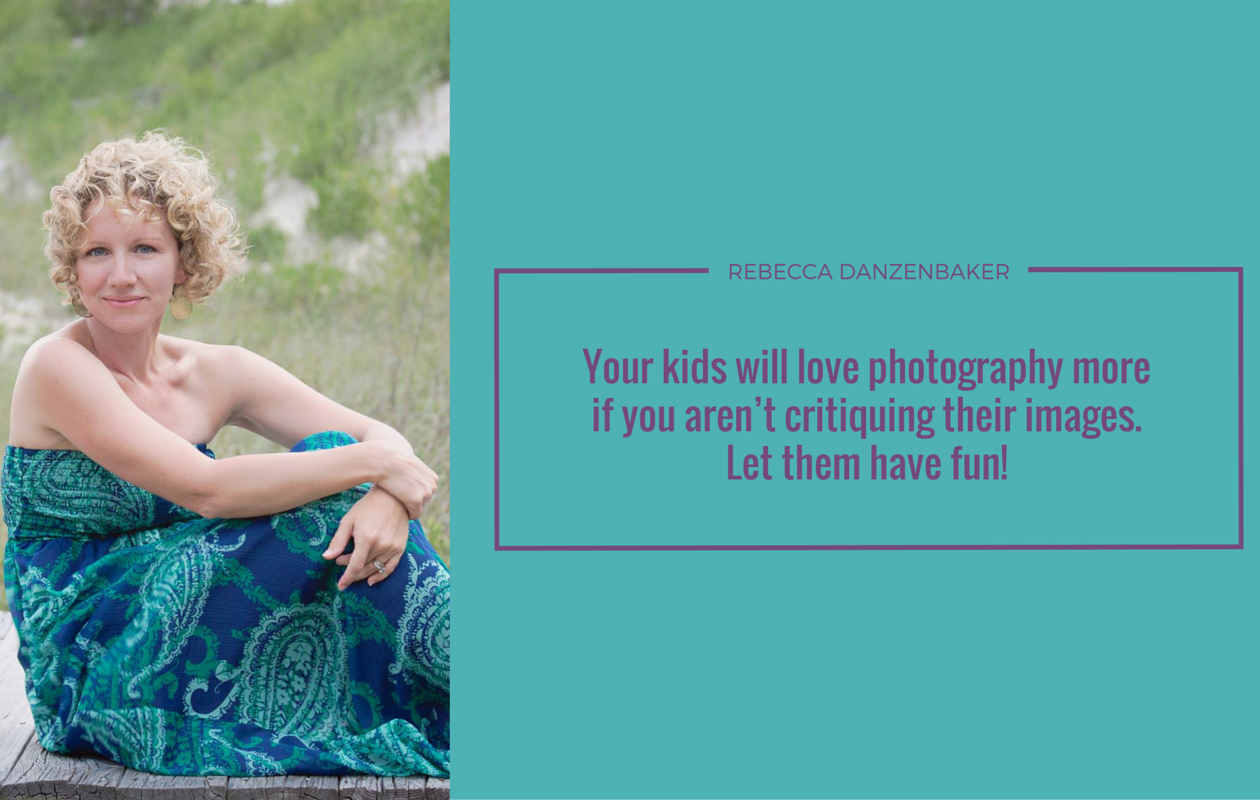 Don't try to teach them any photography rules. Taking photos is fun, which is why those of us with a cell-phone and social media shares our photos with the world almost every day (and 99.99% of them aren't about to win any awards).Your kids will love photography more if you aren't critiquing their images. Let them have fun! My dad only gave me one piece of advice when he gave me my first camera – "Photos are more interesting when there are people in them." (Landscape and architecture photographers are cringing right now, I know!) But he did save me from taking thousands of photos of the exhibits we saw on a field trip to the Smithsonian. Instead, I still have the photos of my friends and I having a great time (okay, clowning around) that day, which are fantastic, priceless memories to have.
Who are you kidding? You want to teach them photography rules. If you can't hold back sharing your wealth of photography know-how with your young-uns, make it a game for them instead (recommended only for your older children – around 7-8 years old and up). Ask them to take a picture of their sister with her face in the middle of the photo and then again with her face slightly to one side or the other and then decide which they like best. Ask them to take a photo of their dog while standing above the dog and then laying on the floor with the dog to see which angle they like best, etc. And it's okay if they choose the "wrong" one! Photography is a subjective art, but you're still teaching them to look at the world a different way, which is a great place to start.
[bctt tweet="Photo tip for kids #13: Don't critique their images. Let them have fun! @rdanzenbaker" username="berylaynyoung"]

Tracey Clark
Author of Expressive Photography & Elevate the Everyday
Creative Blogger at Tracey Clark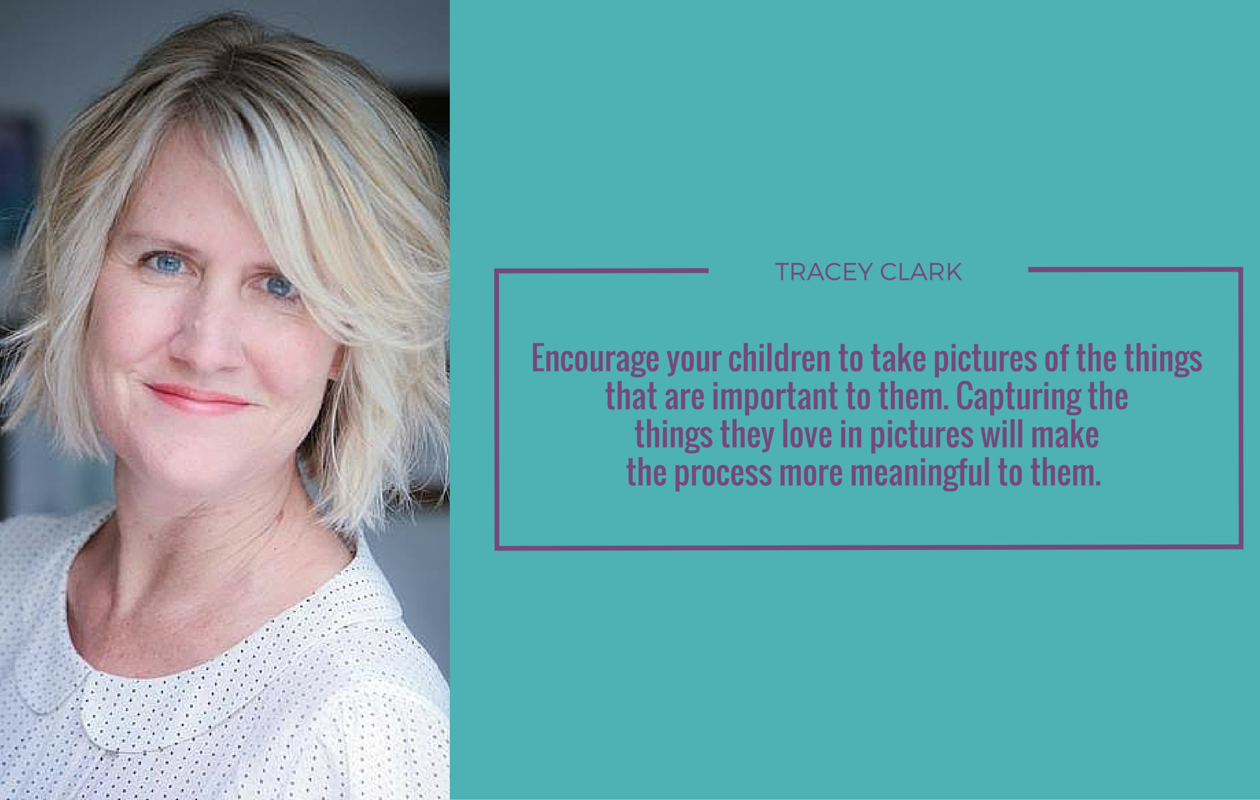 With children, it's often more about the process than anything else.  Allow (even encourage) them to get into setting up scenes to photograph. The more it feels like play, the more they'll enjoy it. If they want help or advice, share it but if they're having fun doing it themselves, let them explore on their own. It's empowering for kids to have something like photography to do on their own.
Encourage your children to take pictures of the things that are important to them. Capturing the things they love in pictures will give will make the process more meaningful to them. Printing the pictures out takes that one step further. Nothing beats a printed picture!
Like with adults, kids like photographs that look good (vibrant, clear, in focus, etc). If you child seems interested in taking "better" pictures, it might be worth helping them to do that. Help them find the places in your home with plenty of light and turn off the camera's flash. Have them hold the camera still when they shoot and make sure there's just enough room between the camera and the subject they're shooting as to keep the subject in focus. When they like the pictures they take, they'll be more excited to take more.
[bctt tweet="Photo tip for kids #14: Encourage photographing things important to them. @traceyclark #photography #parenting" username="berylaynyoung"]

Jen Reiner
Brand Ambassador at 

PicMonkey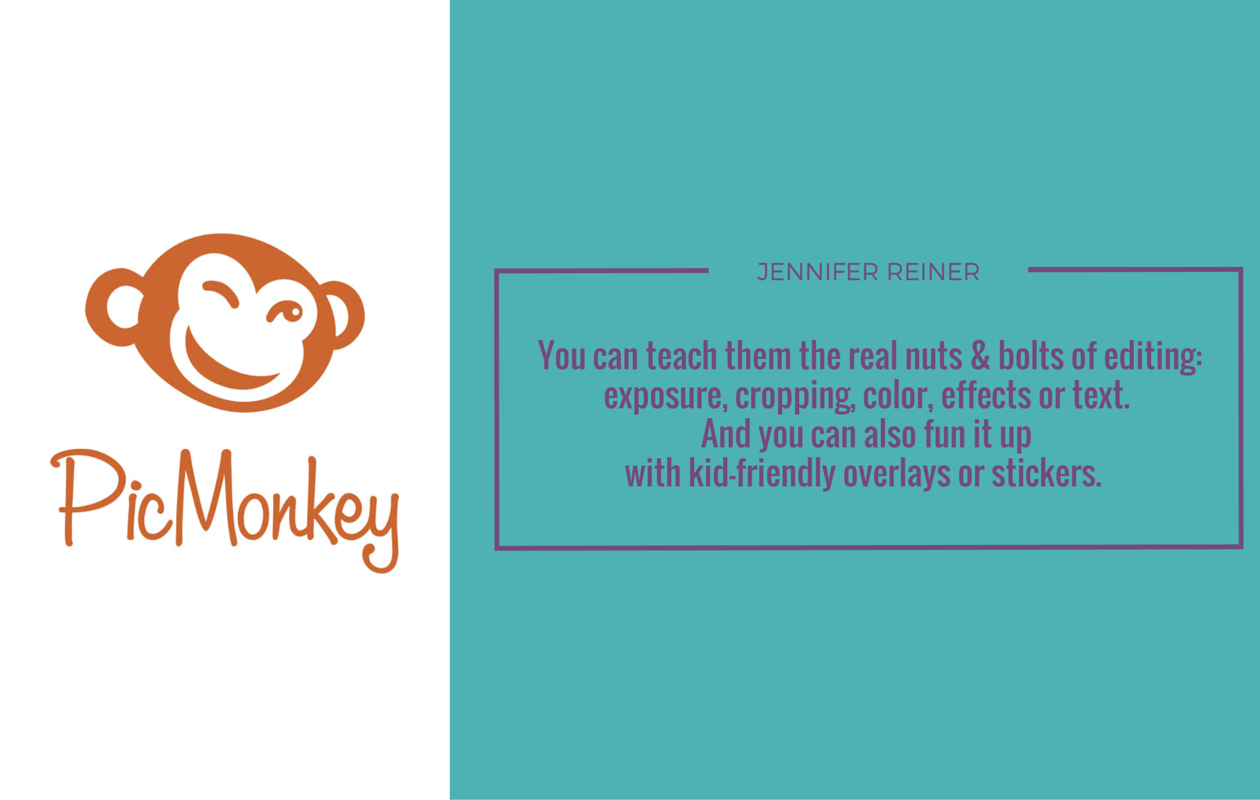 Make photo taking relevant to the child. Favorite stuffed animal? Put them in the picture. Favorite place to play? Go there, and see what they discover behind the lens. Encourage them to photograph their lives: bedroom, school, or front yard.
Emphasize the exploration first, photography second. Go deep. Kids are natural adventurers, they'll surely discover angles and perceptions that adults could only dream of. Take them to new places. Take them to familiar places but encourage them to look in new spots or go at a different time of day and play with various light.
Let loose (and get educational) with photo editing. You can teach them the real nuts & bolts: exposure adjust, cropping for composition, adjusting color, applying effects or text. And you can also fun it up with kid-friendly overlays or stickers and editing features. Just imagine them applying facial hair to a photo. We can already hear the maniacal laughter!
[bctt tweet="Photo tip for kids #15: Fun up photo editing with kid-friendly overlays or stickers! @PicMonkeyApp #photography #parenting" username="berylaynyoung"]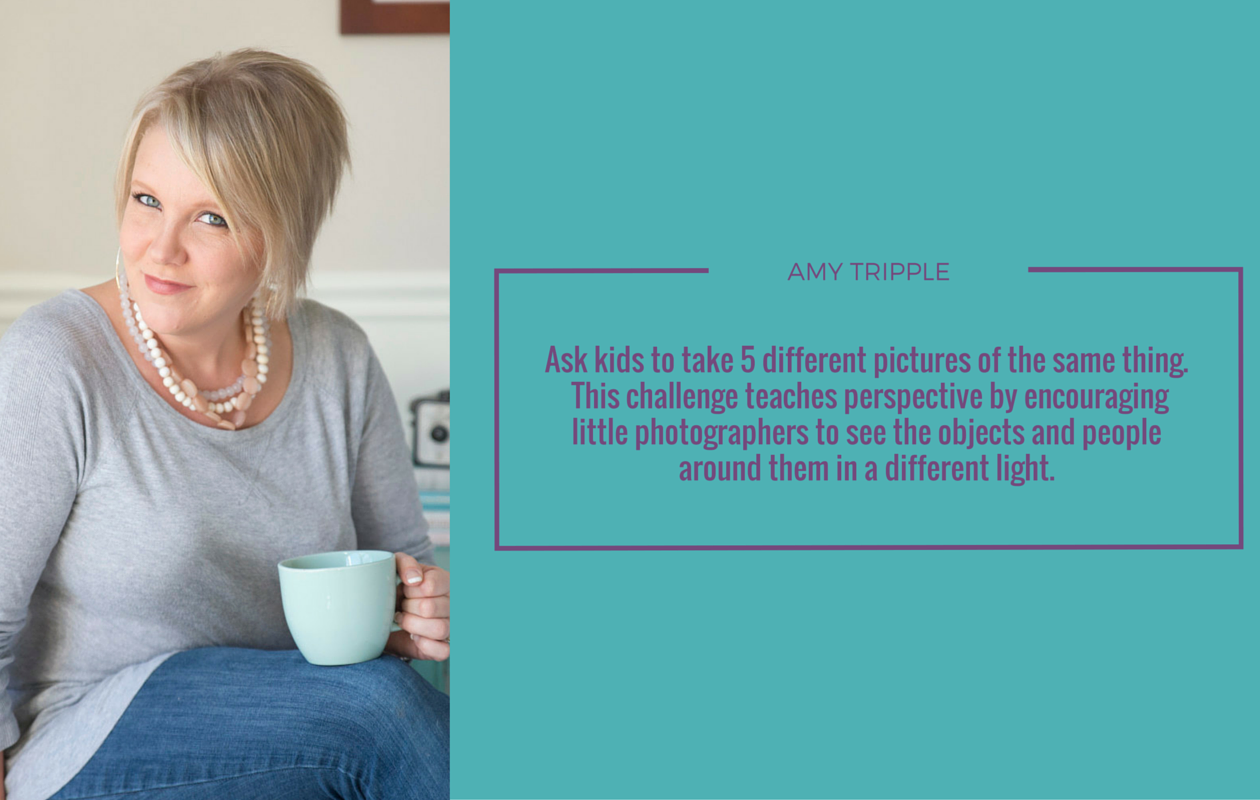 I love to bring children and cameras together whenever possible! Photography is a wonderful way for little ones to express themselves through an artistic medium, and with a bit of support and direction they can learn how to capture life through a lens.
One way I love to make photography fun for kids is to ask them to take 5 different pictures of the same thing. This challenge teaches perspective by encouraging little photographers to see the objects and people around them in a different light.
Another method I use to help children embrace the art of photography is a game called "Capture The Feeling." First, the child will name a feeling they want to convey. With that emotion in mind, they remain alert and sensitive to anything that, to them, emits that feeling. This exercise applies to both photography and life; when children "see" their world through their feelings, they increase the impact of their photographs as well as their ability to name and define specific emotions.
Finally, I love to give children "one special rule" to practice for a certain length of time. For example, I explain the Rule of Thirds, leading lines, symmetry, etc… and encourage them to put the new concept into use. Kids love a challenge almost as much as they love showing off their newfound photography knowledge!
Regardless of the method, children will deeply benefit from the expression this art form affords them… so get a camera in your kiddo's hands and watch them grow!
[bctt tweet="Photo tip for kids #16: Take 5 different pictures of the same thing. @shootalong #photography #parenting" username="berylaynyoung"]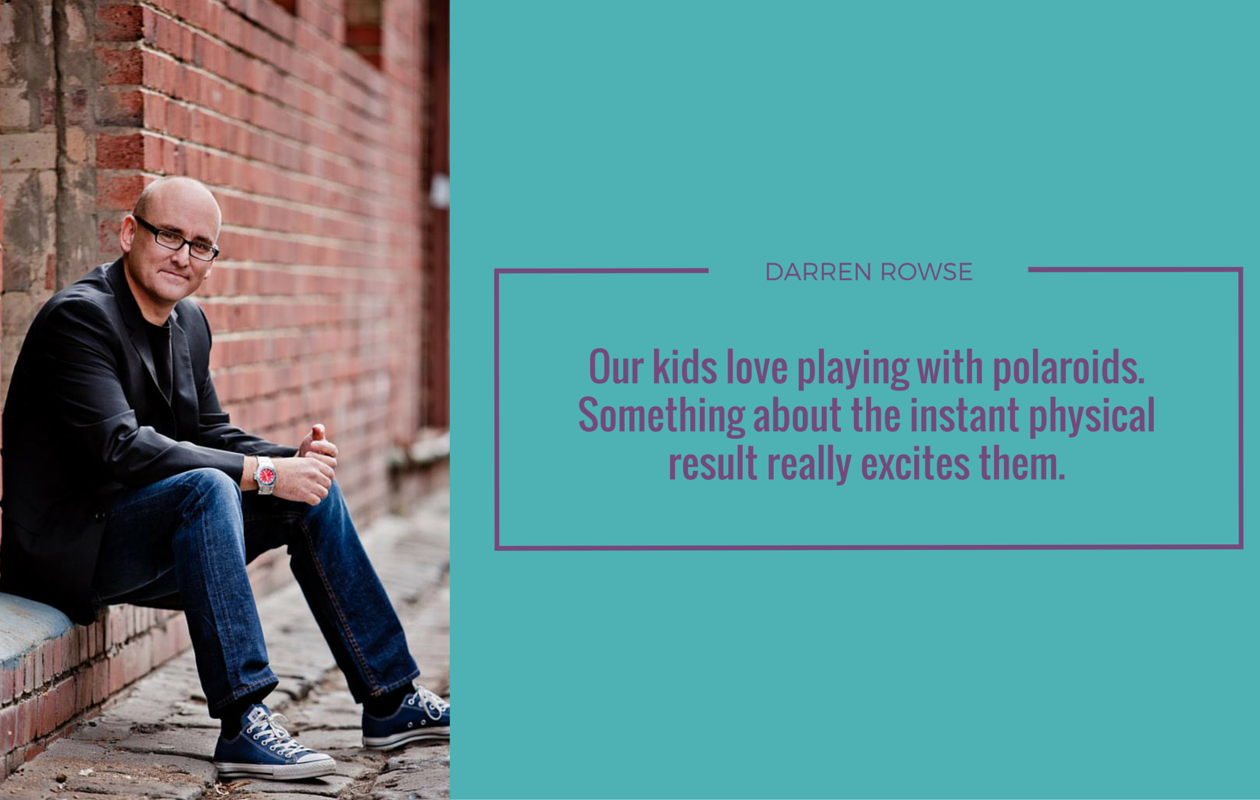 Our kids love playing with polaroids – something about the instant physical result really excites them.
[bctt tweet="Photo tip for kids #17: Play with polaroids! @problogger #photography #parenting" username="berylaynyoung"]

Brooke Snow
Photographer
Creative Blogger at 

Brooke Snow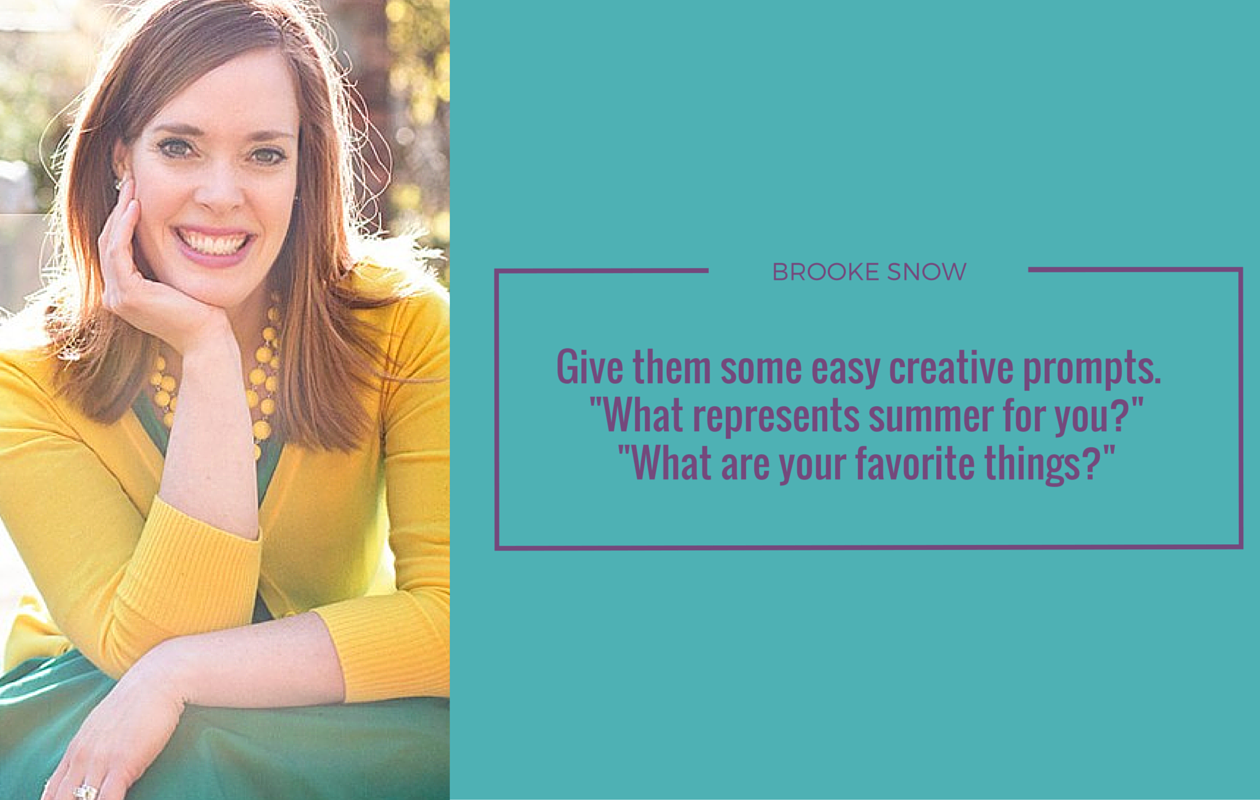 Let them use a camera you won't have anxiety over them exploring with.  It's much easier to be supportive of their creativity when you're not worried about them breaking something.
Give them some easy creative prompts.  "What represents summer for you?" "What are your favorite things?" "Can you find something secret that no one else might see?"
Praise their perspective.  It's easy to compliment aesthetic beauty.  But it will build an artist if you praise their perspective.  "I love that you thought to photograph that!" "I love how you took that picture from a low angle!" "I love how the image is framed!"  It will teach them to be thoughtful about their approach and better yet, that their thoughts matter and make a difference.
[bctt tweet="Photo tip for kids #18: Give them easy creative prompts. @brookesnow #photography #parenting" username="berylaynyoung"]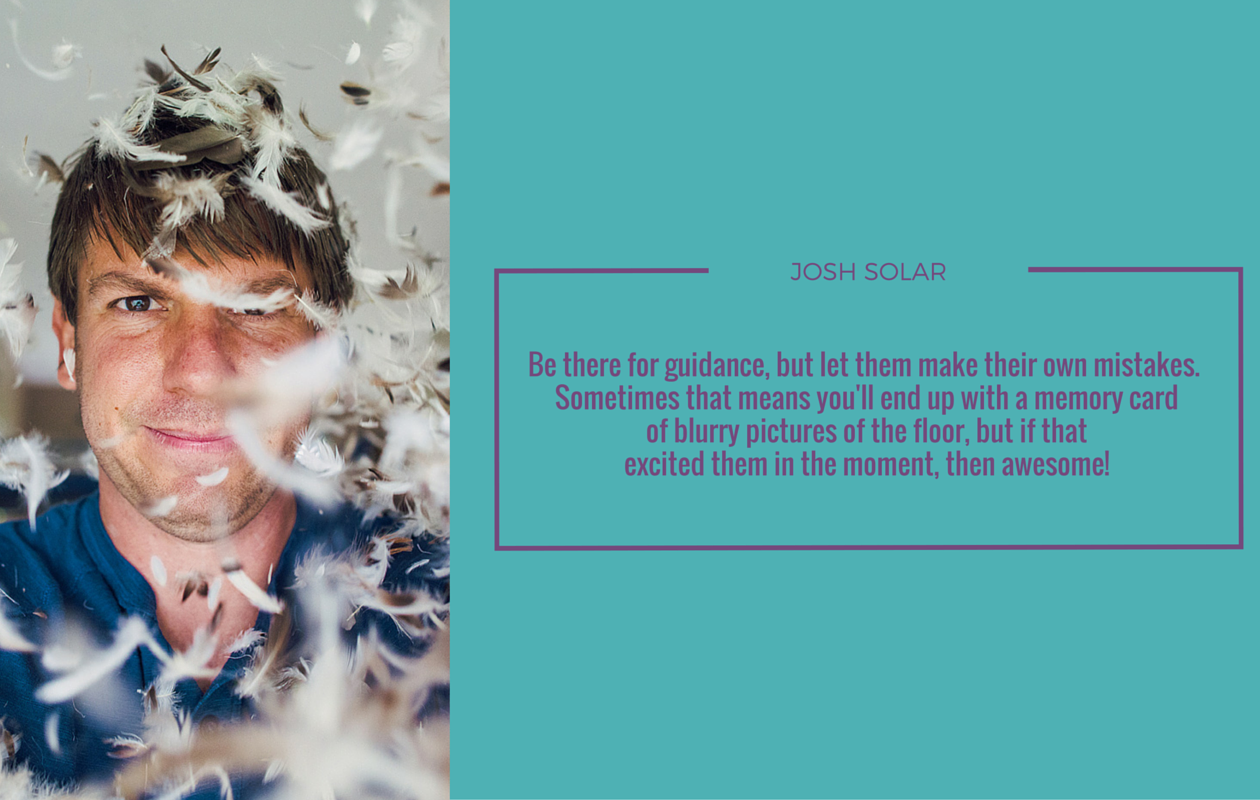 Let them play. Don't try and guide them to what they should or shouldn't be photographing. Let them play and photograph whatever their little heart desires. Sometimes that means you'll end up with a memory card of blurry pictures of the floor, but if that excited them in the moment, then awesome!
Be there for guidance, but let them make their own mistakes. I've found when I start trying to teach or put my spin on what I'd like the to be doing, they quickly lose interest, but if I let them play with all the buttons to see what happens, and then answer questions later, it's more fun and they learn a lot more (and faster!).
If my kids ask to use the 'big' camera, I let them. I make sure they know it's an expensive machine and they have to keep the strap around their neck, but I don't want my kids to think some things are off limits when they're learning a craft. I want them to have access to the best tools I have available to them.
[bctt tweet="Photo tip for kids #19: Guide them, but let them make their own mistakes. @joshsolar #photography #parenting" username="berylaynyoung"]

Kate Densmore
Photographer at Kate Densmore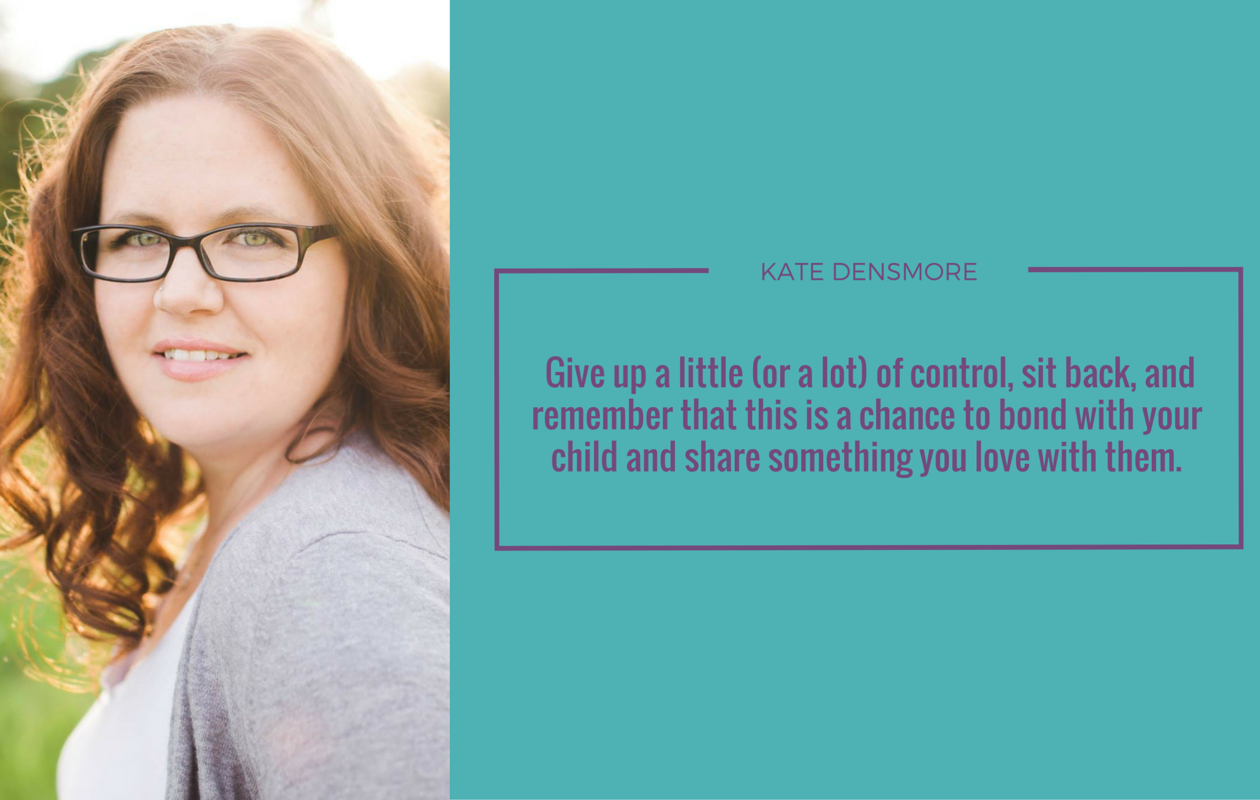 Print your images, and let your kids touch them. There is nothing like being able to pour through an album or touch a print in your hands, to ignite a love for photography. And especially for kids, who are tactile by nature, letting them feel the end product is a great way to get them excited about the process.
Let them make their own decisions. If your child is old enough to be trusted with a camera, let them pick the compositions they like, and the subjects they are most drawn to. If your child is too young for that, allow them to make the choices still, while you use live view to show your child what you are photographing with their guidance.
Have fun. Give up a little (or a lot) of control, sit back, and remember that this is a chance to bond with your child and share something you love with them. The memories and creative you are instilling are far more important than worrying about the "right" way of doing anything just yet.
[bctt tweet="Photo tip for kids #20: Remember that this is a chance to bond with your child. ~Kate Densmore #photography #parenting" username="berylaynyoung"]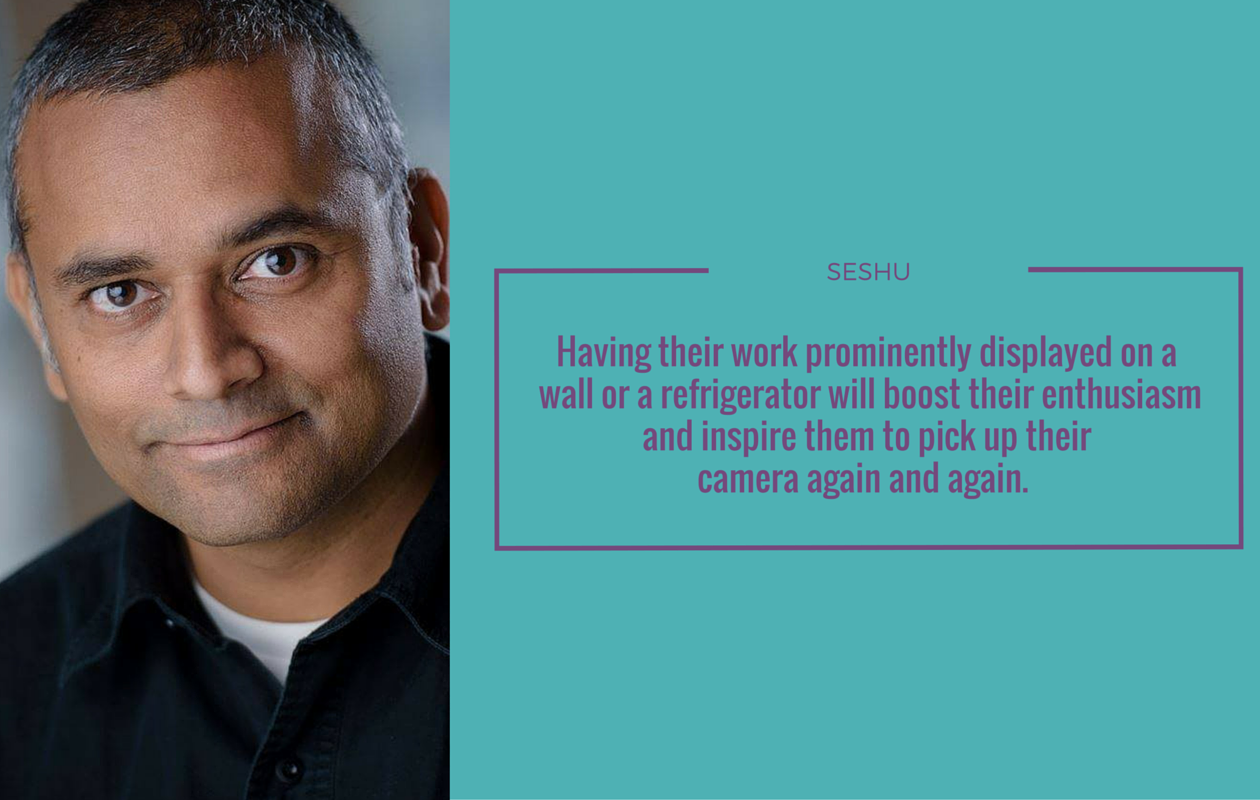 Feed their curiosity.  If kids express a desire to photograph anything, just give them a camera that you can afford to have dropped or get slightly dented or worse, broken. Point-and-shoots are perfect for this. They get to see what they have created right away and it could further motivate them or they may get bored and come back to it another time. So access is key.
Guide, but don't judge. What kids find interesting or "photo-worthy" might not be something that drives your gears. But be patient. Allow them to explore. Be a guide (teaching them about the controls on the camera) but take step back when they start making images. Giving them the freedom to explore their world, in their own way is key. Even as adults, we know our work is very subjective, so there is no need to judge their work as they start to learn their craft.
Print Their Work! When possible, work with children (yes, showing them Photoshop) and order prints of their work. Having their work prominently displayed on a wall or a refrigerator will boost their enthusiasm and will inspire them to pick up their cameras again and again.
[bctt tweet="Photo tip for kids #21: Print Their Work! @picseshu #photography #parenting" username="berylaynyoung"]

Tara Whitney
Photographer at Tara Whitney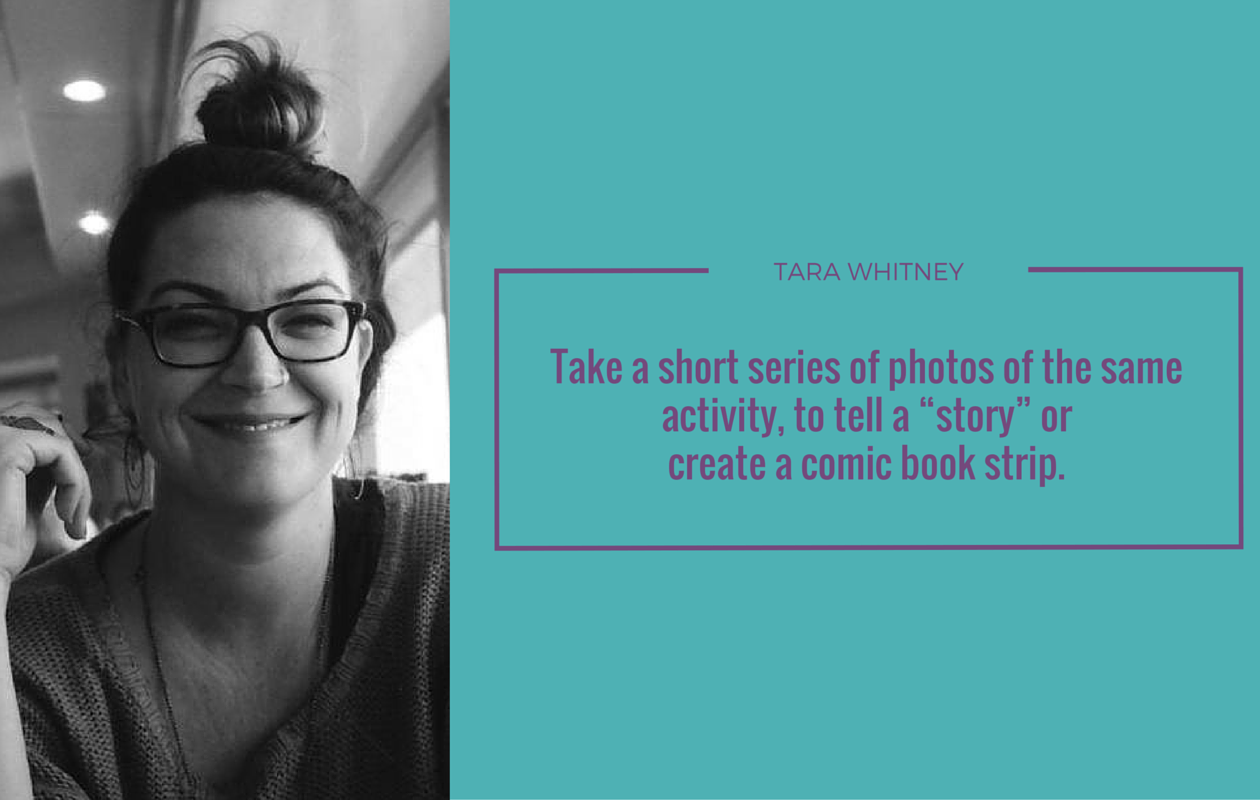 Organize a photo scavenger hunt. Side note – for an extra challenge, try to find things in nature that LOOK like the objects on the list. For example, find a face in nature. Find a stick that looks like a spoon, etc.
Weekly or daily theme over a course of time. Both parent and child come back together to share photos they took fitting the theme. Then, make a photo book out of it!
Take a short series of photos of the same activity, to tell a "story" or create a comic book strip.
[bctt tweet="Photo tip for kids #22: Create a comic book strip. @tarawhitney #photography #parenting" username="berylaynyoung"]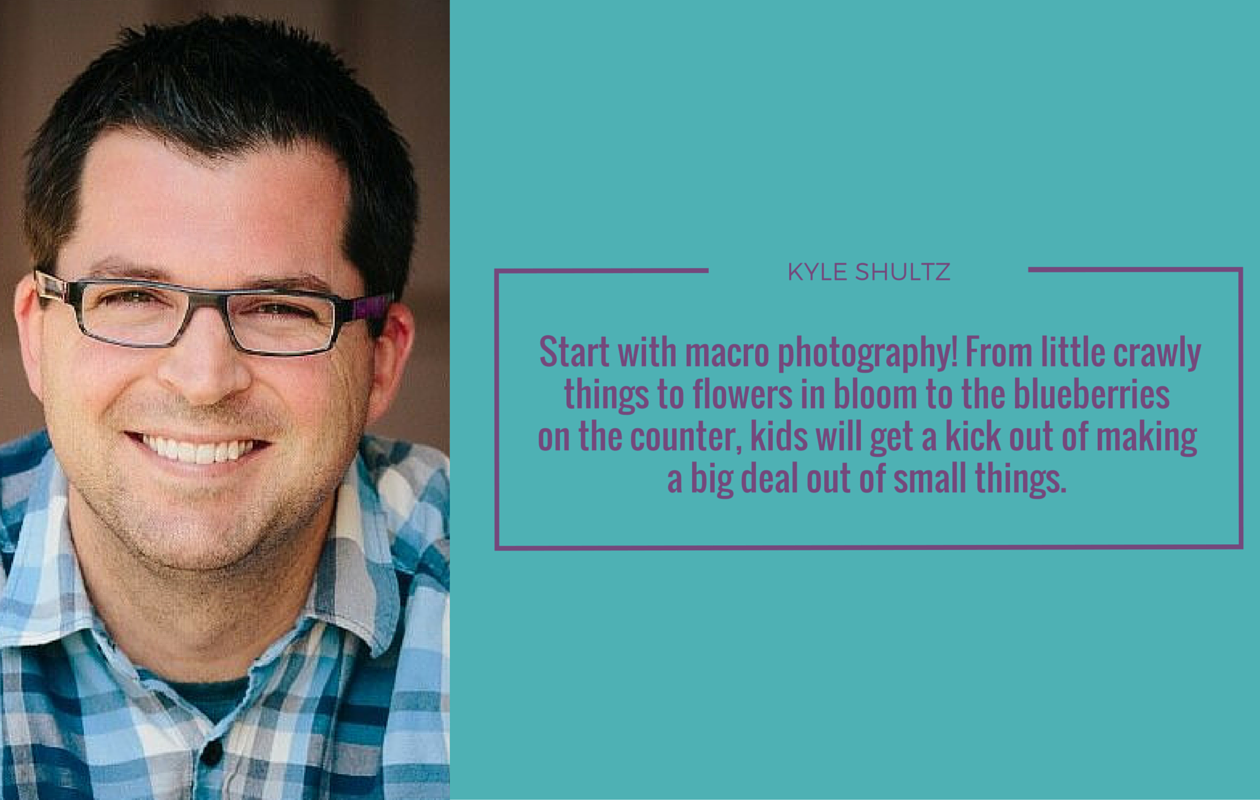 Anything and everything macro!  Macro photography is such a fun place to start with photography.  From little crawly things to flowers in bloom to the blueberries on the counter, kids will get a kick out of making a big deal out of small things.
Photo Scavenger Hunt!  This can be as simple and straightforward, or as creative, as you need it to be (depending on age).  The boundaries could be within your back yard or your entire neighborhood. Endless options here!
Create a simple photo book!  This isn't about designing as much as it's about seeing their images in PRINT!  There's something about holding images in your hands.  Kids are used to seeing pics on a digital screen.  Ironically, show them one of their pictures printed on a piece of paper, and they'll think it's ACTUAL MAGIC!  LOL.  I recommend Chatbooks. You can get a high quality 60 page book (1 image per page makes it a 2 second design process) for $8 shipped!
[bctt tweet="Photo tip for kids #23: Start with macro photography! @kyleshultz #photography #parenting" username="berylaynyoung"]

Lena Hyde
Photographer
Founder of 

Design Aglow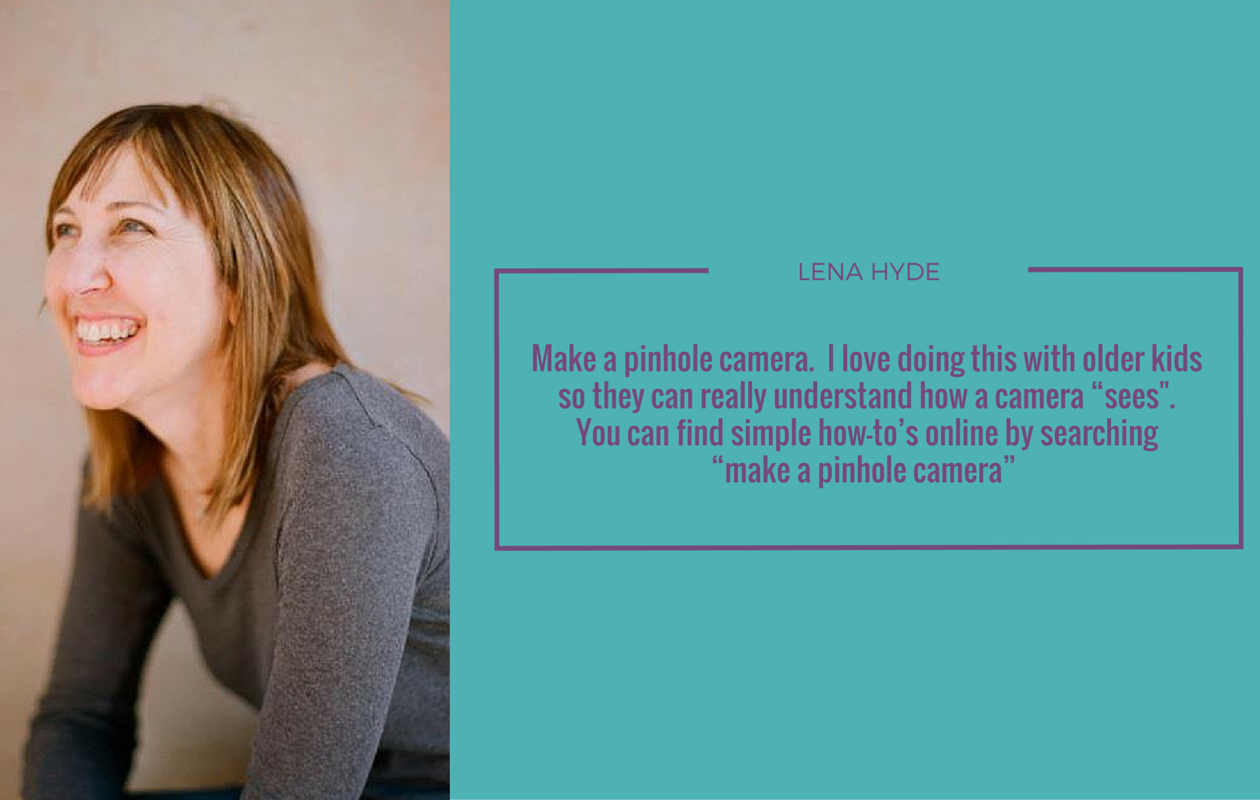 Make a pinhole camera. I love doing this with older kids so they can really understand how a camera "sees" and how the whole photography process works. You can find simple how-to's online by searching "make a pinhole camera." Perfect for summer, get a nice roll of color film and shoot outdoors in covered shade. I'd recommend using a quality lab, rather than drugstore/megastore, and asking for a matte finish. Create a mini book or journal of the captures!
Self Portrat Project. Take a self portrait every day, week or at another easy-to-remember interval. You can throw in a weekly challenge too, such as backlighting, rule of thirds, or action photo. The longer you go, the more fascinating the results!
Action figures in action. Fun for younger kids who still play with action figures/dolls, have them go on adventures with mini model, a la https://www.instagram.com/socalitybarbie. Bonus points: create an Instagram account or a collection of images to frame and display!
[bctt tweet="Photo tip for kids #24: Make a pinhole camera. @designaglow #photography #parenting" username="berylaynyoung"]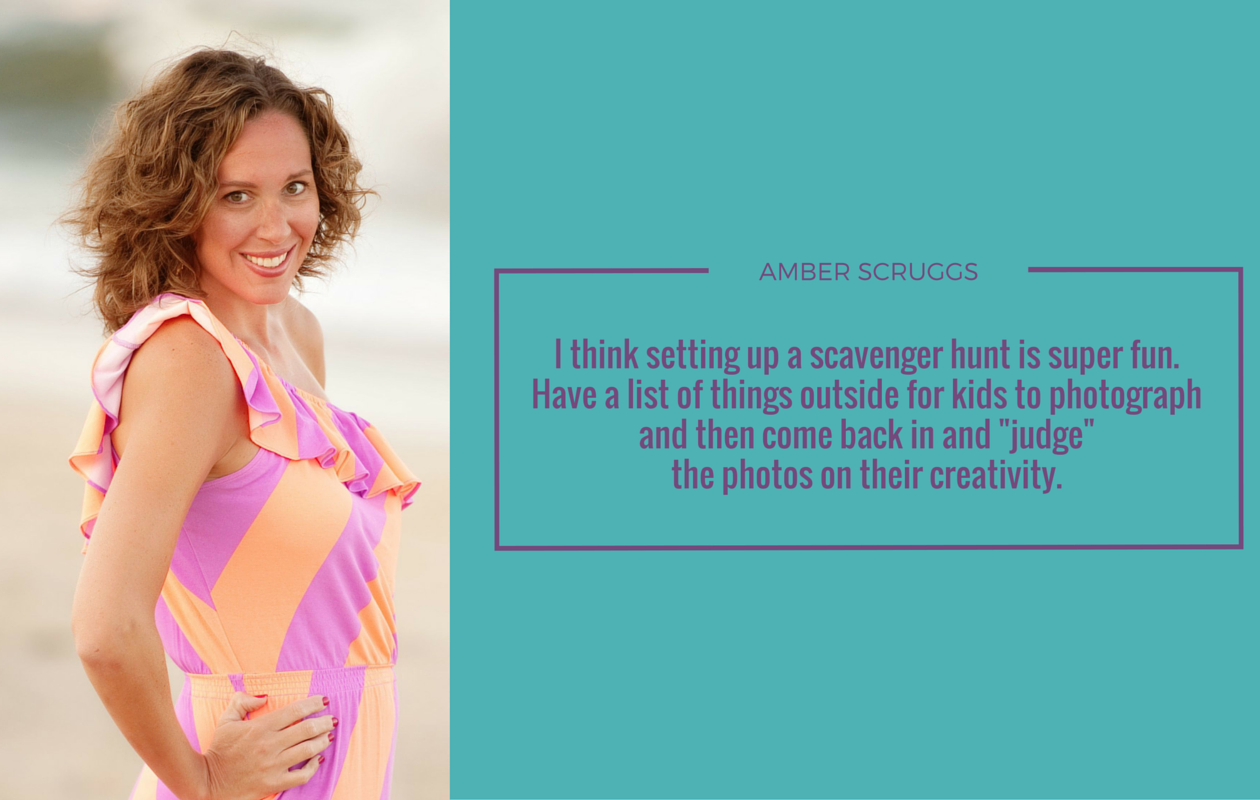 Setting up a scavenger hunt is always super fun. Have a list of things outside for them to photograph and then come back in and "judge" the photos on their creativity.
[bctt tweet="Photo tip for kids #25: Have a scavenger hunt and judge the photos when done! ~Amber Scruggs #photography #parenting" username="berylaynyoung"]

Shawn Fink
Creative Blogger at Abundant Mama
Talk to them about perspective and framing by encouraging them to get low and shoot from different angles. Kids love to try goofy positions. It helps them see how different other people's perspectives can be, too.
Pose for them and be their models. And have fun with being in front of the camera so they learn to love it, too.
Don't hover. Teach the rules of keeping the camera and the child safe and then let it go and let them experiment and be the artists they already are.
[bctt tweet="Photo tip for kids #26: Pose for them and be their models. @theabundantmama #photography #parenting" username="berylaynyoung"]

Susannah Conway
Creative Blogger at Susannah Conway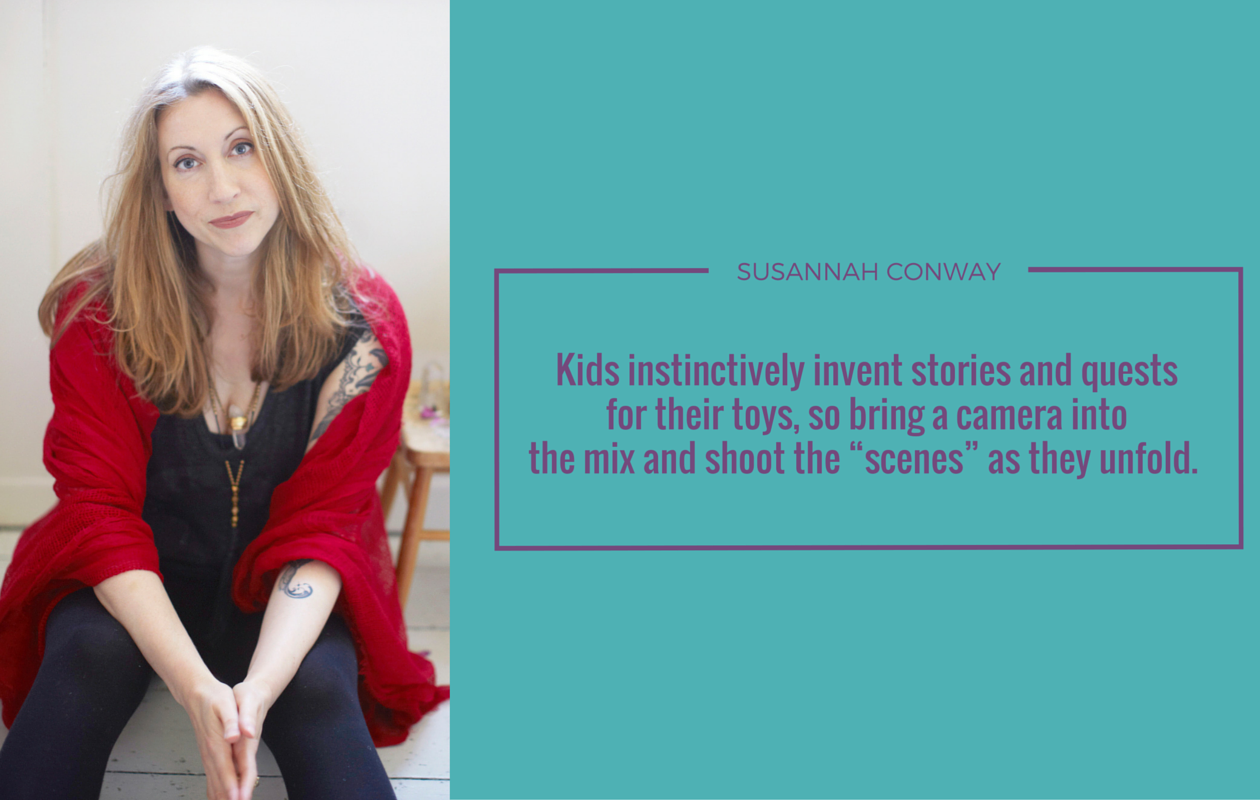 I don't know any child who's not completely fascinated by instant film so I heartily recommend investing in an Instax camera. Film is still readily available and it's such a fun way to make photography a tangible thing for smaller children. A photograph in their hands that they took themselves? Magic!
Take your cameras out on a colour safari, seeking out five red things, five orange things, five yellow things, and so on all the way through the rainbow. Obviously this exercise is less about composition and more about observation! For older children take it up a notch by looking for shapes (triangles, circles, diamonds, etc) and letters (their initials are a good one to start with).
Kids instinctively invent stories and quests for their toys, so bring a camera into the mix and shoot the "scenes" as they unfold. Follow the main protagonists as they visit their friends, go to school, climb the sofa-mountain or whatever else they get up to — my nephew and I like to shoot our Lego figures as they explore the living room and go on secret missions outdoors. Print out their favourites and encourage them to write captions underneath. Come up with a name, make a cover and — bam! — you've made a storybook. HOURS of fun 🙂
[bctt tweet="Photo tip for kids #27: Go on a quest with their toys. @susannahconway #photography #parenting" username="berylaynyoung"]

Ginger Unzueta
Photographer at Ginger Unzueta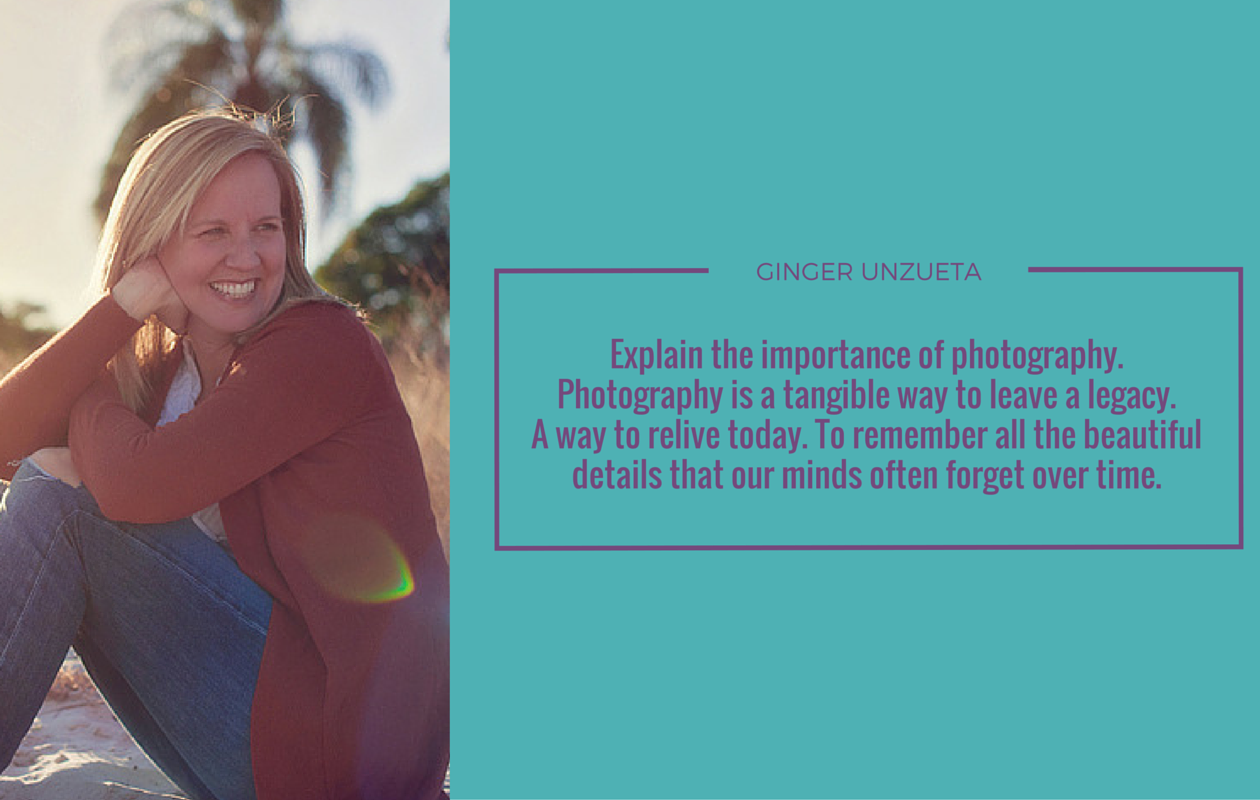 Let them be involved. Children love to be included. They also love to be trusted for input and creative ideas. They can be involved with creating a photo shoot for the parent to capture or in actually taking the image. It is so empowering for a child to see they can create art also. When they see the images they have made, they will get more excited to keep learning.
Print your (and their) images. Children and adults alike love to hold images. To see them printed in real life; not just on a computer or phone screen. These pictures can be put in albums, in memory books, or in frames. This will bring life to the art they are helping create.
Explain the importance of photography. Photography is a tangible way to leave a legacy. A way to relive today. To remember all the beautiful details that our minds often forget over time. Whether it be a memorable vacation or a summer day at home, photography gives us a way to share our stories for years to come.
[bctt tweet="Photo tip for kids #28: Explain the importance of photography. ~Ginger Unzueta #photography #parenting" username="berylaynyoung"]

Sarah Wilkerson
Photographer
CEO of Clickin Moms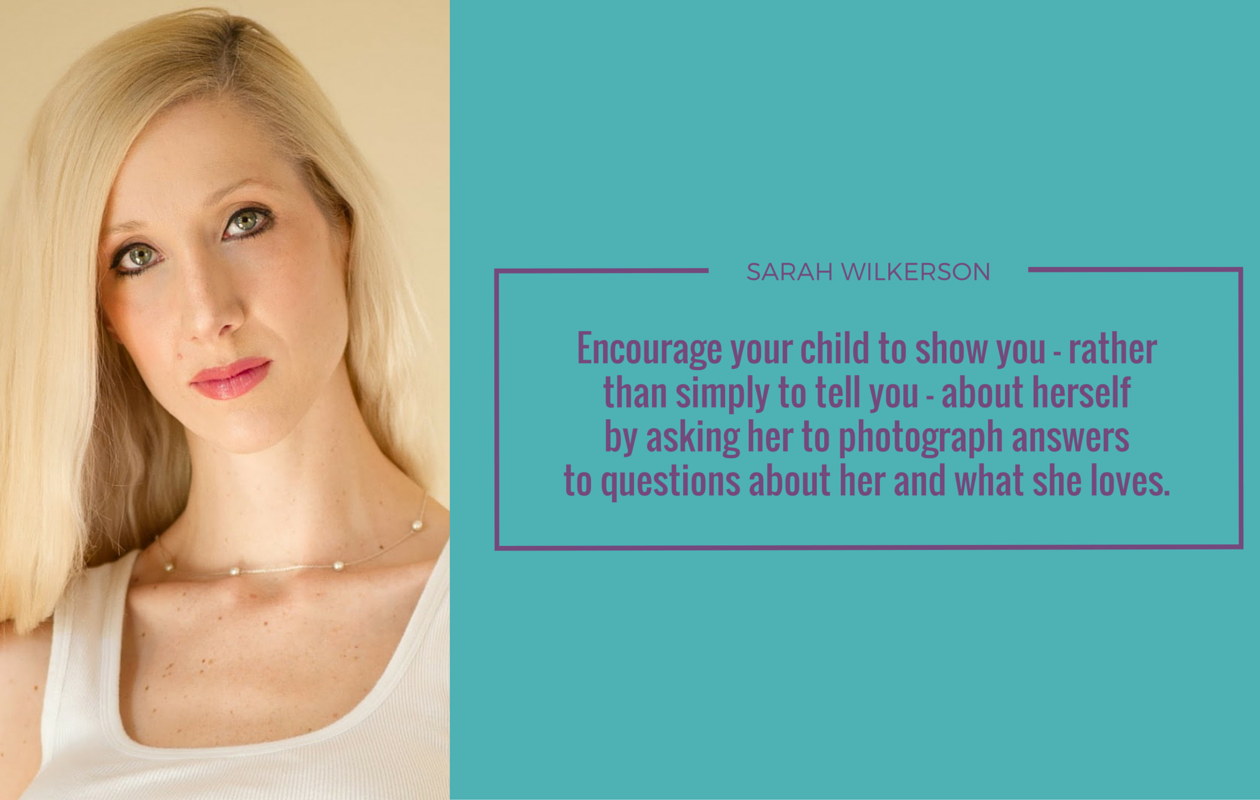 Make a game of it — and play along! Exploring the world with a critical eye isn't just a wonderful exercise for your budding artist; it also develops a great life skill. Encourage your child to embark on a visual scavenger hunt with her camera, then go explore – and shoot – with her! Make a list together first, or just choose a simple theme (the color red, things you can eat, the letter B) and see how many things you can find.
Hold a photographic interview. The photographs we take often reflect who we are, who we love, what we value. Encourage your child to show you – rather than simply to tell you – about herself by asking her to photograph the answers to questions such as: What is your favorite food, color, toy, sport, book, etc? What's your favorite thing to do with mom? What's your favorite part of the day?
Put prints on display. Don't let your child's photos sit on a hard drive (or worse yet, only on the memory card). Upload them, review them together, order prints, and display a few in your home. Not only will the child experience the initial joy of seeing her photograph in all its printed glory, but putting her work on the wall will serve as a visual reminder of how proud you are of the art she's made — and that will keep her motivated to keep creating.
[bctt tweet="Photo tip for kids #29: Hold a photographic interview @sarahewilkerson @clickinmoms  #photography #parenting" username="berylaynyoung"]

Vinee McCracken
Brand Ambassador at

Mpix

Let them take control. Get ready – things are about to get really creative. Ask your kiddo for photo ideas and play along. Since you're letting them take charge, they will be more brave and expressive in their actions.
Make it an event. If you want your child to get excited about photography, take the time to make it a special day. Whether it's visiting your child's favorite place, exploring somewhere new or promising sweet treats, find a way to make it a truly special occasion.
[bctt tweet="Photo tip for kids #30: Let them take control. @mpix  #photography #parenting" username="berylaynyoung"]

Sunny King
Photographer at Sunny King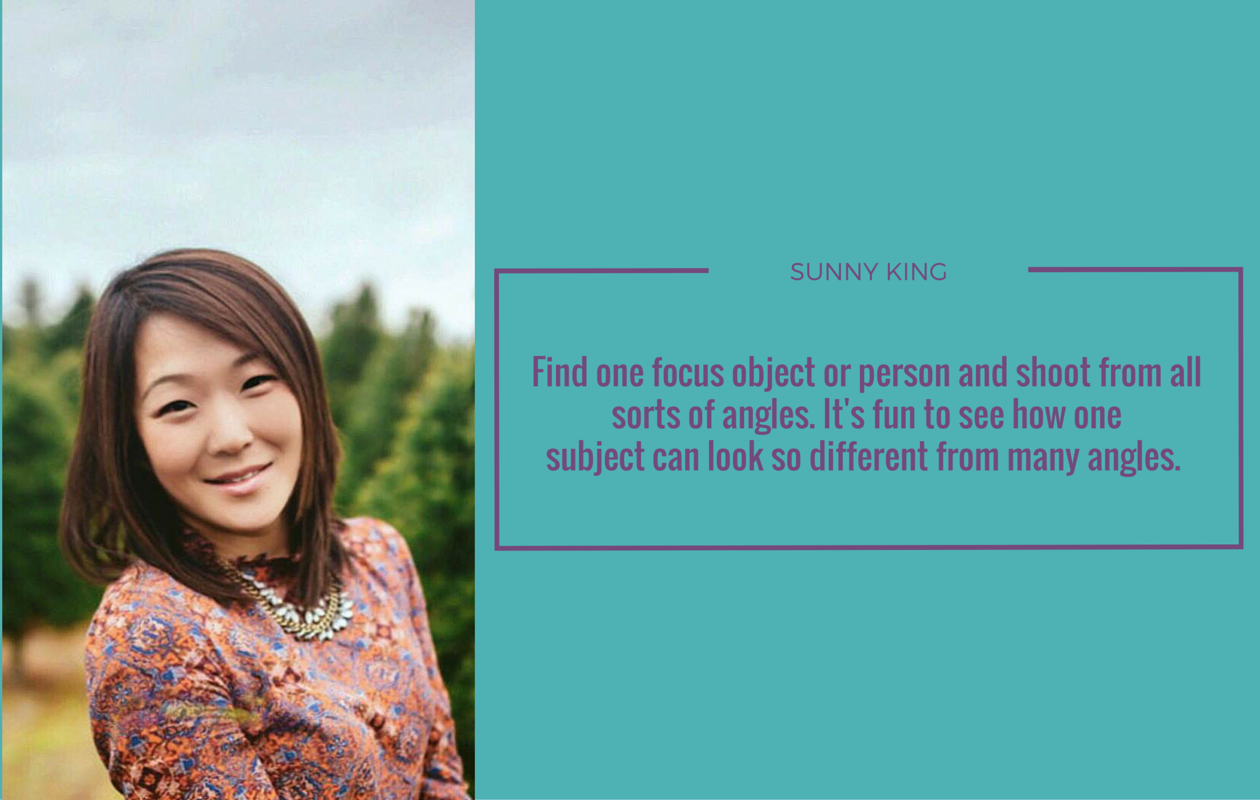 Find one focus object or person and shoot from all sorts of angles. It's fun to see how one subject can look so different from many angles. One of my favorite angles to shoot is from laying on my belly — it makes the subjects look tall and the perspective is different than most kids have had a chance to experience.  You can also tilt your camera up or down or side to side — tilting the camera down a bit as you are photographing people while you are photographing from below help prevent you from shooting up their nose!
It's fun to photograph the same scenery in different types of lighting or during different times of day —  after some practice, you'll notice the various color tones that lighting makes.  On cloudy days, there is more of a blue or green tone.  On a beautiful sunset day, you many see colors of vibrant red and yellow, depending on the colors of the sunset.  You'll also notice that lighting helps create vibrant colors or delicate and whimsical tones.
Don't be afraid to photograph objects in motion.  Although it may not be technically correct to blur your objects, photography and art is in the eye of the beholder!  You may create some of your favorite artistic and abstract captures when you get all of the technical things wrong!
[bctt tweet="Photo tip for kids #31: Encourage shooting from all angles. ~Sunny King  #photography #parenting" username="berylaynyoung"]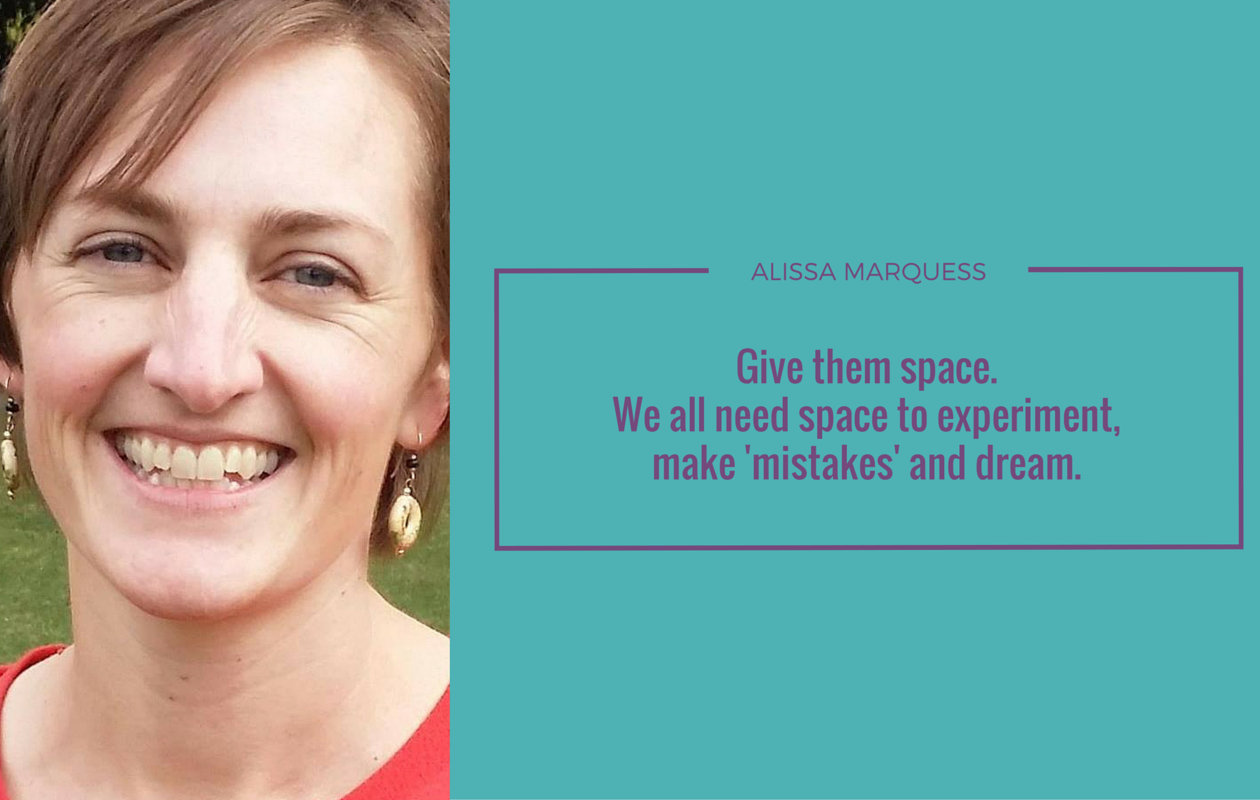 Keep explanation brief – make sure they know how to take a photos, and how you want them to care for the camera, and then let it go. If you keep it simple they can get to taking photos and develop their interest and they'll come to you with questions.
Give them space – one of the quickest ways to squash creativity and the joy in creating is to hover and offer lots of suggestions. We all need space to experiment, make 'mistakes' and dream. You can convey, "I think you're capable." by keeping your mouth shut. If you have a great idea for a photo, take it yourself – maybe you can ask your child what they think of your photo.
Step into their world – what does your child care about right now? Do they want to photograph the cat 50 times? Take pictures of the best spots to play 'spy' at the park? Or maybe make a photo diary of a Lego project they're working on. When you join them in their world they get to show you a new point of view and you get the joy of knowing your child a little bit better.
[bctt tweet="Photo tip for kids #32: Give them space. @alissamarquess  #photography #parenting" username="berylaynyoung"]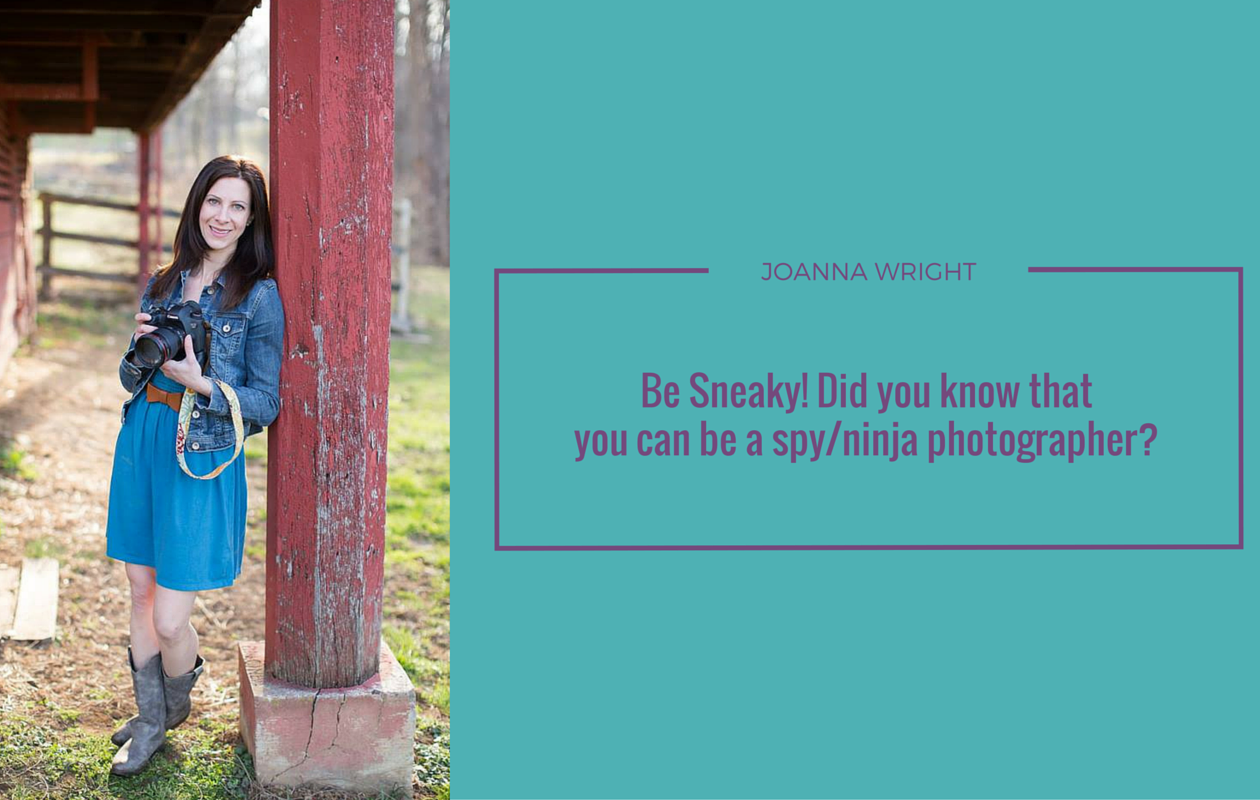 Photograph your FAVORITE things! Ask your child to find their 4 favorite things in the world. Come up with a story about how those items went on an adventure—pose your favorite things and snap away! It can become "a camera action movie" when you chimp through the digital images!
Take Your Own Picture! Don't have a tripod? That's ok! Prop your camera on a dresser or a stack of books. Make as many different faces as you can—ask a friend or adult to press the shutter—or if you're really lucky, use your mom or dad's camera remote!
Be Sneaky! Did you know that you can be a spy/ninja photographer? You can sneak around and photograph friends or family members when they aren't looking. Sometimes, your best pictures will shine through when you're sneaky—make sure you show your spy masterpieces to your friends and family when you're done!
[bctt tweet="Photo tip for kids #33: Be a sneaky spy/ninja photographer!  ~Clover Creek Photography #photography #parenting" username="berylaynyoung"]
Davina Fear
Photographer at 

Davina Fear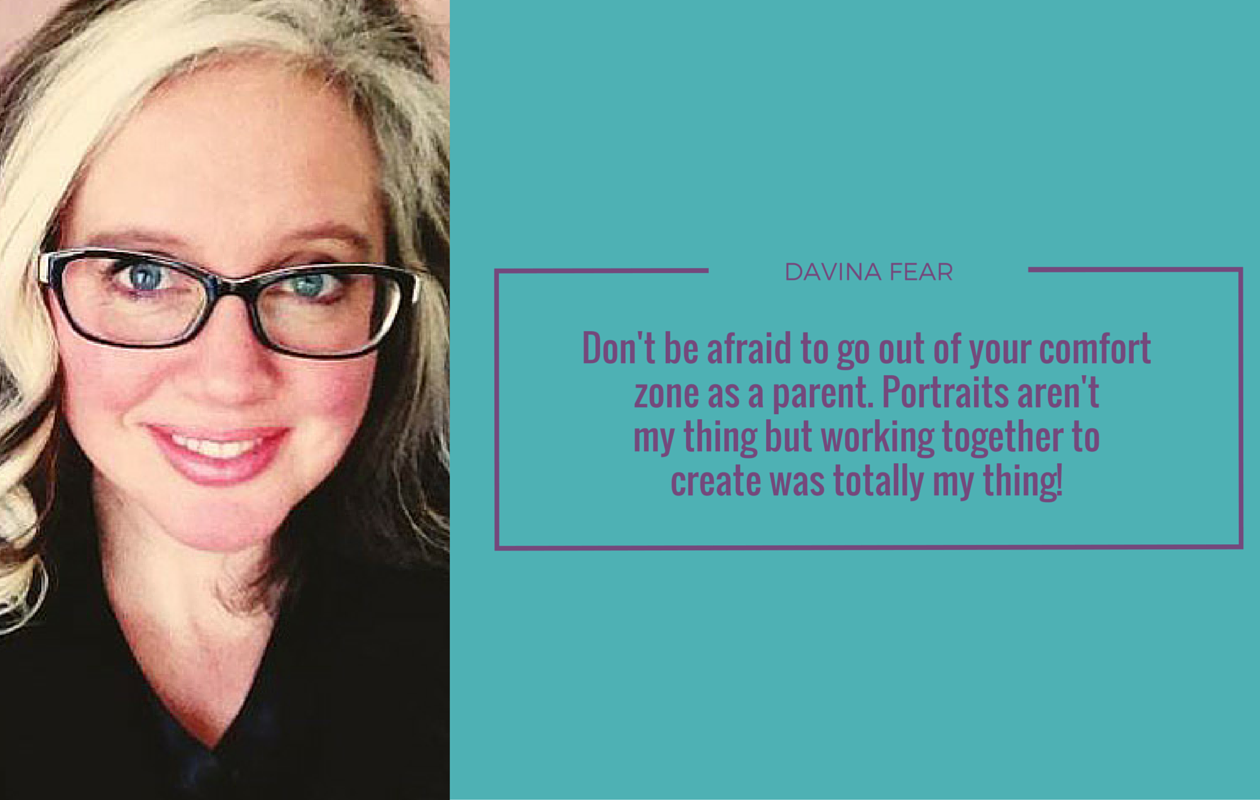 Typically, I'm a documentary photographer, capturing a Day in the Life of my clients and family, so doing a planned shoot is a little out of my comfort zone but still lots of fun.
My kids adore reading.  During the summer they go through gobs of books, one after another.  We have talks about them, usually discussing the storyline, conflicts, characters, and the author.  One of my kids has been working on writing her own book and wants to be an author when she grows up so we have lots of book loving going on around here! haha!

Following my kids' lead is the biggest part of making a photography project fun.  Since books are a favorite around our house, it seems like a natural step to help make a book come alive with photography.
A couple of years ago, all of my kids were reading books they loved.  We had visited with author, Karen Hesse, and she had talked about really trying to understand all of the emotions of her characters.  One day, my girls dressed up as characters from their books and suggested that we do a photo shoot that would convey who they were and what they thought about.
Together we put up a simple background in our garage so that the light would create some beautiful wrap-around light.  Each of the girls and Emmett put together their outfit for their character and we talked about what their character would do.  I photographed them all afternoon as they changed into the outfits they created for their different characters.  It was super fun!
Quick steps:
1. Let your children lead.  Pay attention to what they are interested in and find a way to start a photography project from what they love.

2. Don't be afraid to go out of your comfort zone as a parent.  A portrait session isn't my thing, but working together to create was totally my thing.
3. Have fun with the project and don't have too many rules involved, be flexible, and laugh a lot.
[bctt tweet="Photo tip for kids #34: Don't be afraid to go out of your comfort zone. @davinafear  #photography #parenting" username="berylaynyoung"]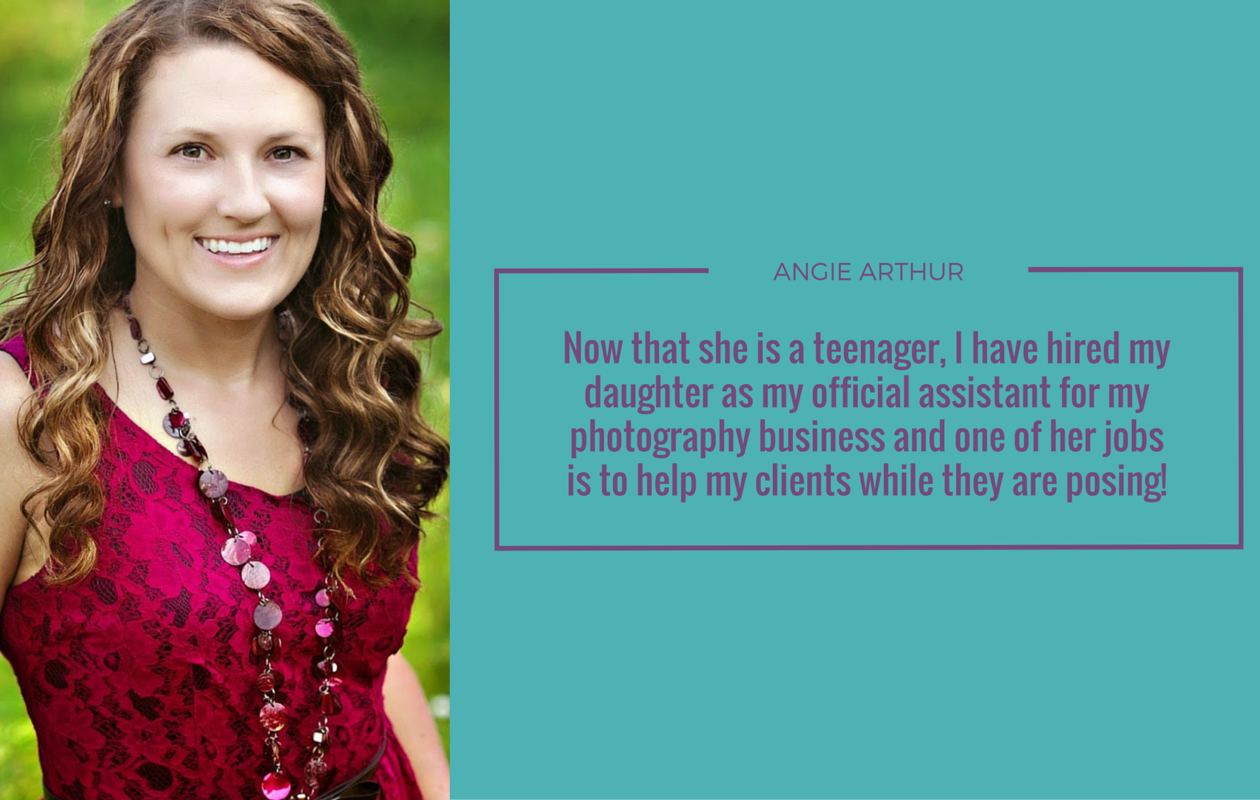 Buy your child their own camera (as a gift or as something that they earn) as soon as they show interest in what you are doing with your camera.  This can begin when they are very young (my daughter has been interested in photography since she was a preschooler) or when they are a bit older (my oldest son became interested in photography when he started snow skiing as a young teenager.)  My daughter prefers a dSLR camera while my son prefers a GoPro.  By them earning cameras that they were interested in, it has helped them learn more about composition, camera settings, and taking interesting photos of their own well before the age I was when I first fell in love with photography.
Take your child on photo excursions with you and then compare photos when you get back home.  This is a great way to:

Teach them while you are both together photographing the same things in the same lighting situations.
Learn more about camera settings while you are there to help them.
Show them that mom makes mistakes as well and no one takes a perfect photo every time.
Encourage them while you go through the images together.  This is a time when you can point out the ones that appeal to you because of their composition, exposure, or interesting elements…and your child can do the same with your photos!

If they show interest, have your child model for you during impromptu photo sessions.  Modeling for a photographer teaches you so much about posing techniques and tips!  My sons aren't into this very much but my daughter has loved posing for photo sessions with me since she was quite young.  This turned into her posing as a model for several I Heart Faces workshops that we have held across the country and it has helped her own photography improve immensely.  Now that she is a teenager, I have hired her as my official assistant for my photography business and one of her jobs is to help my clients while they are posing (give them suggestions that help them look more natural on camera, check their jewelry and hair to make sure everything is in place, etc.)  She is thrilled to now be earning money from something that started out as a fun hobby!
[bctt tweet="Photo tip for kids #35: Have your kids assist when you shoot. @davinafear  #photography #parenting" username="berylaynyoung"]
Lauren Guilford
Photographer at Lauren Guilford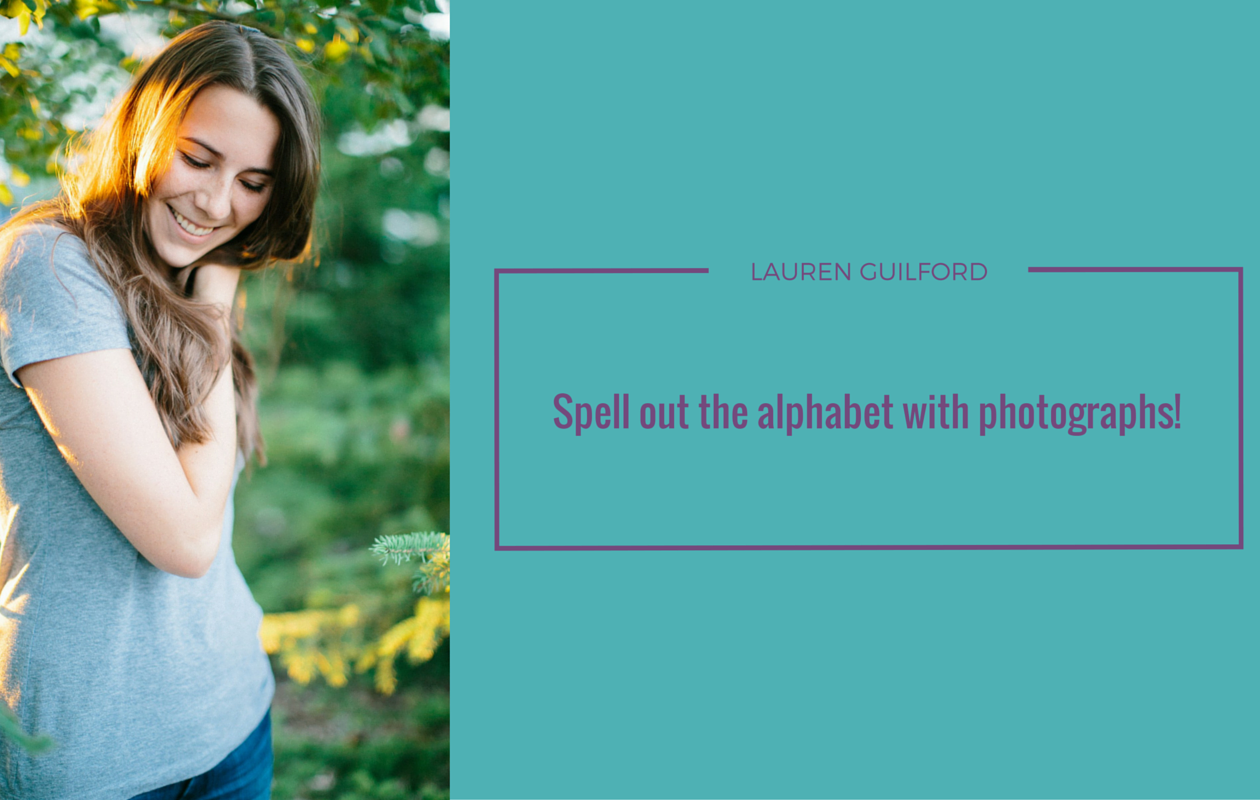 Have your kiddo spend a whole day looking for and photographing their favorite color. Depending on the age of your kiddo, this can open up a fun conversation about differing shades of their favorite color, and the different shapes and objects they photographed.
Spell out the alphabet with photographs! Designate a few days towards your kiddo finding objects that start with each letter of the alphabet and put it all together once they're done.
What's your kiddo's favorite book or story? Have them take a handful of photographs to recreate that story. Or, if your kiddo is old enough, help them create a story of their own and help them take pictures that bring their story to life. Once you're done, create a little coffee table book for them of their work!
[bctt tweet="Photo tip for kids #36: Spell out the alphabet! @laurenguilford  #photography #parenting" username="berylaynyoung"]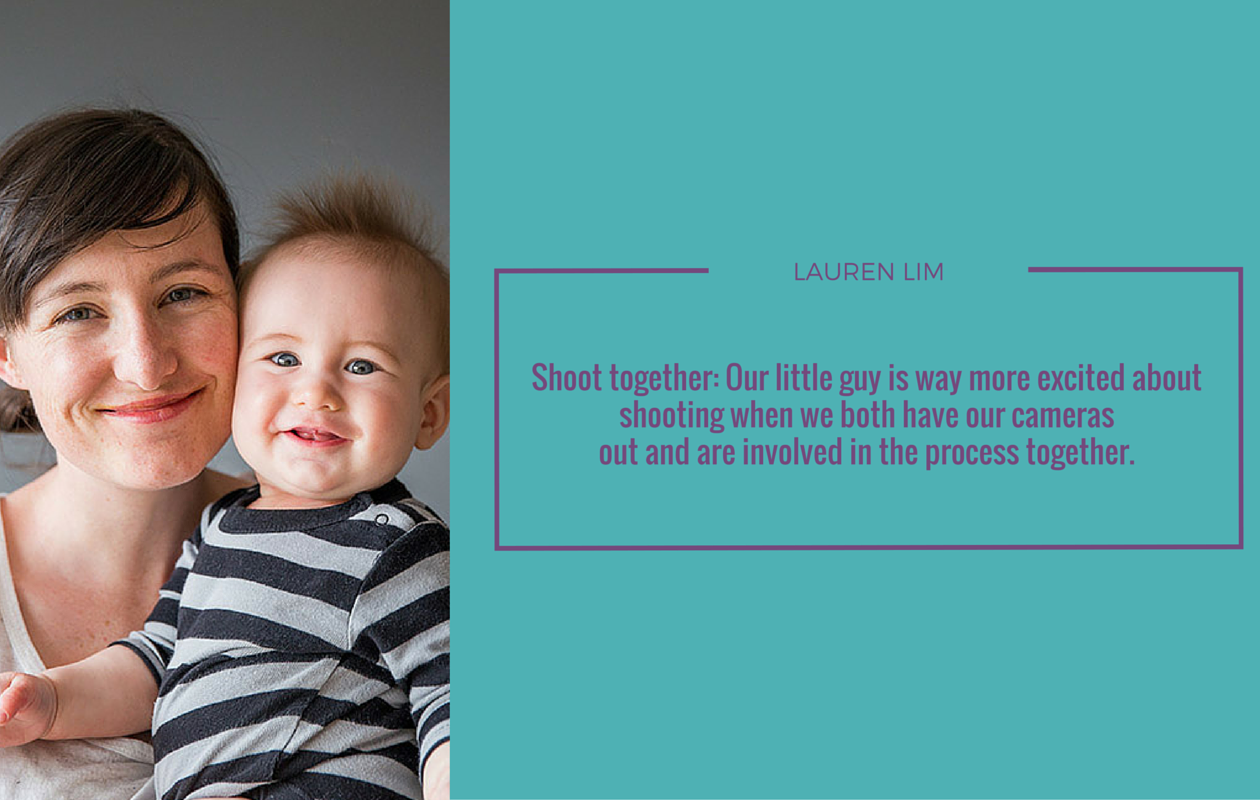 Try instant film: The Fuji Instax line has a ton of great options for instant film cameras that are easy for even the youngest photographers to use. The instant results get kids excited and make photography more tangible for them.
Shoot together: Our little guy is way more excited about shooting when we both have our cameras out and are involved in the process together. Pick a subject that they find interesting, and talk about all the different things that strike you as photo worthy about it (colors, shapes, angles, light) as you capture it with your cameras.
Keep a camera accessible: Have a camera for your kids (we like using a shock-proof, water-proof model that we don't have to worry about) and keep it out and accessible. They can easily pick it up whenever the mood strikes, and they might just surprise you when they say "Hey, let's take a picture of this!"
[bctt tweet="Photo tip for kids #37: Shoot together! @fotoconcentrate  #photography #parenting" username="berylaynyoung"]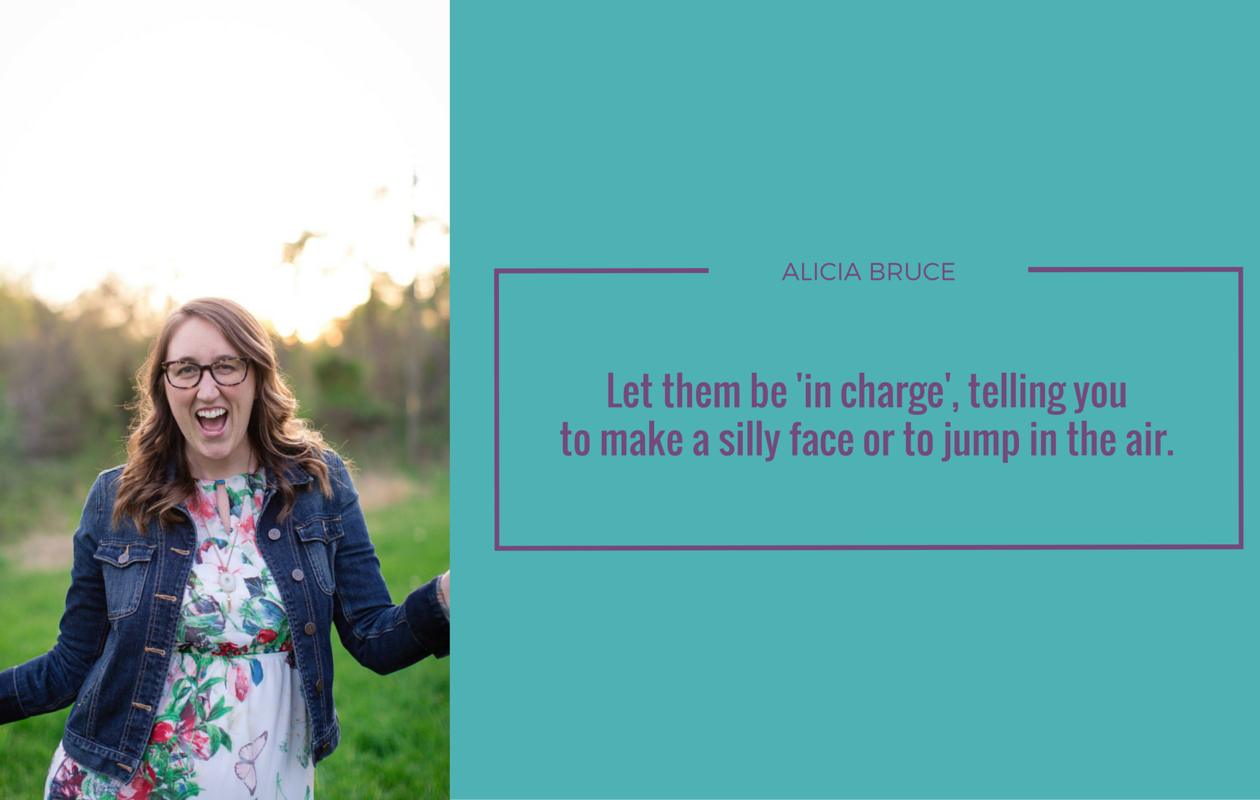 Suggest a subject your child is excited about. Their favorite stuffed animal, their latest painting, or a pretty bouquet of wildflowers that they just picked all make for great photography subjects. Seeing those items through your child's eyes makes it even more special!
Take turns with them. After asking your child to pose for your camera, you can then pose for your child's camera. Let them be 'in charge', telling you to make a silly face or to jump in the air.
Print those photos! Simply allowing your child to snap some photos from time to time will have much less of an impact than actually printing their photos for display in the home. They'll be proud of their work and eager to continue practicing. Turn their photos into prints they can 'autograph' and hand out to friends or print them as postcards and mail to far-flung family members.
[bctt tweet="Photo tip for kids #38: Let them be in charge. @weareloveknot  #photography #parenting" username="berylaynyoung"]

Make Photography an adventure. Nothing is more exciting that turning education into a treasure hunt of fun. Plan an excursion that includes finding and photographing landmarks, objects or familiar places. This expedition style event gives lots of time for bonding and sharing information all under the umbrella of fun!
Follow up your photography sessions with an image  critique. Share positive feedback and ask for details about why the image was taken and what the goal was. Kids love feedback and sharing helps them learn to pre-plan a concept as they shoot.
Visit museums and allow the children to see other forms of art. Then let them emulate the beauty they see through photography. Find iconic art pieces and allow them to design a similar setup and share the results. Being a great artist comes from knowing those who have gone before you.
[bctt tweet="Photo tip for kids #39: Visit museums and find inspiration in art. @sandypuc  #photography #parenting" username="berylaynyoung"]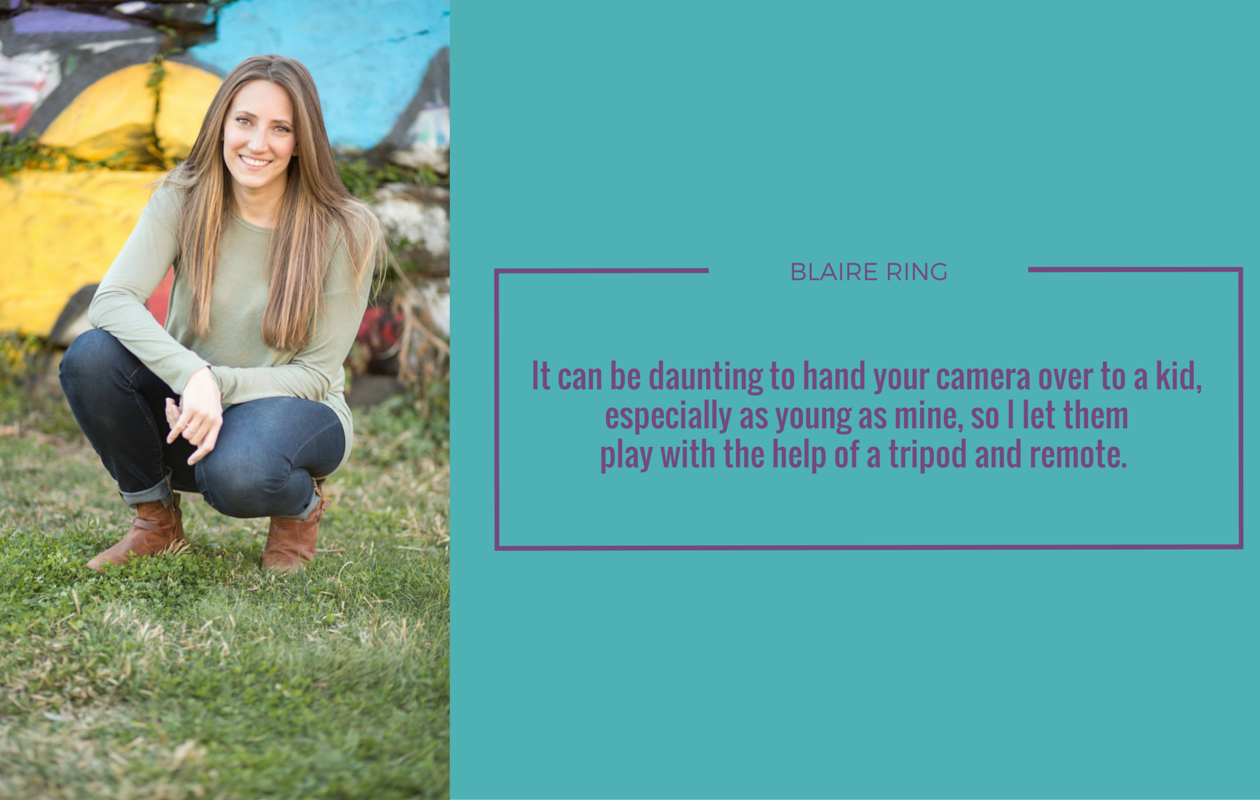 Let them be in control My 5 year old loves to play "creative director." She gets to choose everything from the location, outfits, and poses. Frilly dress and high heels? Yes please! It allows her to express her normally quiet self in a creative way and helps build her confidence. She sets it all up – I am only there to shoot (and supervise!) Even her two year old sister loves it, because Big Sister is doting on her. And it's an amazing experience for me to watch their relationship blossoming in a new way. As a fly on the wall, I am able to observe my girls objectively and I learn so much about them each time.
Let them have fun It can be daunting to hand your camera over to a kid, especially as young as mine, so I let them play with the help of a tripod and remote. Sometimes I leave the room and come back to a memory card full of giggles and silly faces, other times I stay to be part of the selfie fun. By not molding every moment into precisely timed poses I am letting the photographical magic happen naturally. No cheese faces, no blurry shots of the back of their head as they turn away from the camera.
Have fun with them If your kids are older and can be trusted with the camera, don't be afraid to be silly on the other side and take direction from your kids. It's not just about documenting every step from behind the lens but also about being part of that journey. Take this opportunity to laugh with your kids and get to know them from a new point of view. Especially if you don't like having your picture taken! Allowing your kids to see you just a little bit vulnerable but still having fun teaches them a variety of important life lessons all while having a blast and building a strong relationship.
[bctt tweet="Photo tip for kids #40: Play with a tripod and remote. @secondavephotog  #photography #parenting" username="berylaynyoung"]

Nicki Behm
Photographer at Nicki Behm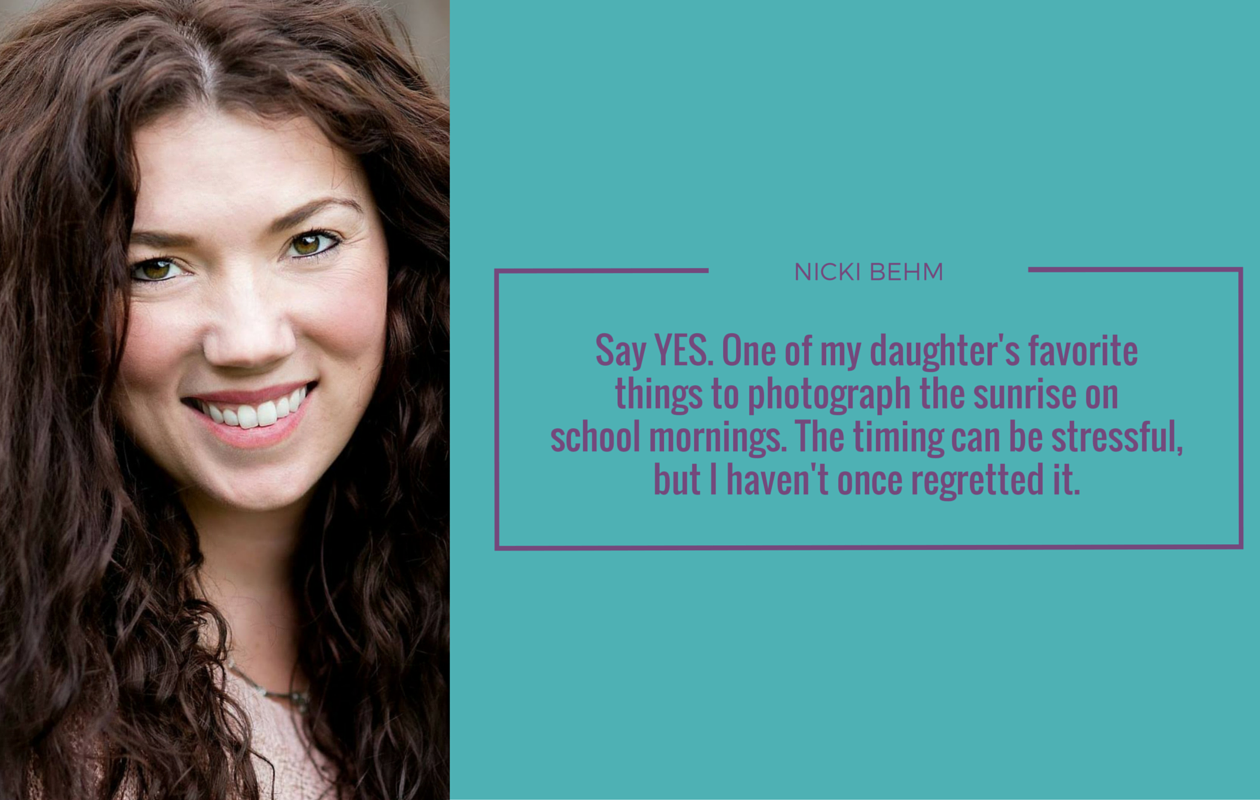 My number one tip is to say YES. It's hard to stop what you're doing and let your child get the camera out to photograph something, but say yes as often as you can. One of my daughter's favorite things to do is run outside and photograph the sunrise on school mornings. The timing can be stressful, but I haven't once regretted it. Those photos of the light she sees are treasures to me. And she caries that light with her to school those mornings. Everyone sees the world through their own unique perspective. Your kids will teach you just as much about photography if you allow them to show you.
One more tip that I absolutely love, is to let your kids photograph YOU. Let them plan it out, pick out your clothes, and choose the location. This helps you learn how scary and stressful it can be for them when the table is turned and you are trying to get pictures of them. And it teaches them how to be patient and give direction in a loving way. Plus, nothing beats the smile on your child's face when the photo pops up on the screen. Your kids adore and think you are beautiful. Let them show you how they see you.
[bctt tweet="Photo tip for kids #41: Say YES. @nickibehm  #photography #parenting" username="berylaynyoung"]

So there you have it! Isn't this advice for making photography fun for your kids awesome? I know I'll trying many of these suggestions with my daughter really soon!
A HUGE thanks to everyone who contributed to this incredible post!
Please share if you think it was useful.
What's the best tip that you can recommend to make photography fun for kids? Let me know in the comments below.
[bctt tweet="41 experts and creatives reveal 3 tips to make photography fun for kids! @berylaynyoung #photography #parenting" via="no"]

These tips were AMAZING, right? 
Download this PDF with all 41 expert tips so you can refer to it again and again.
[magicactionbox id="9835″]

PIN IT