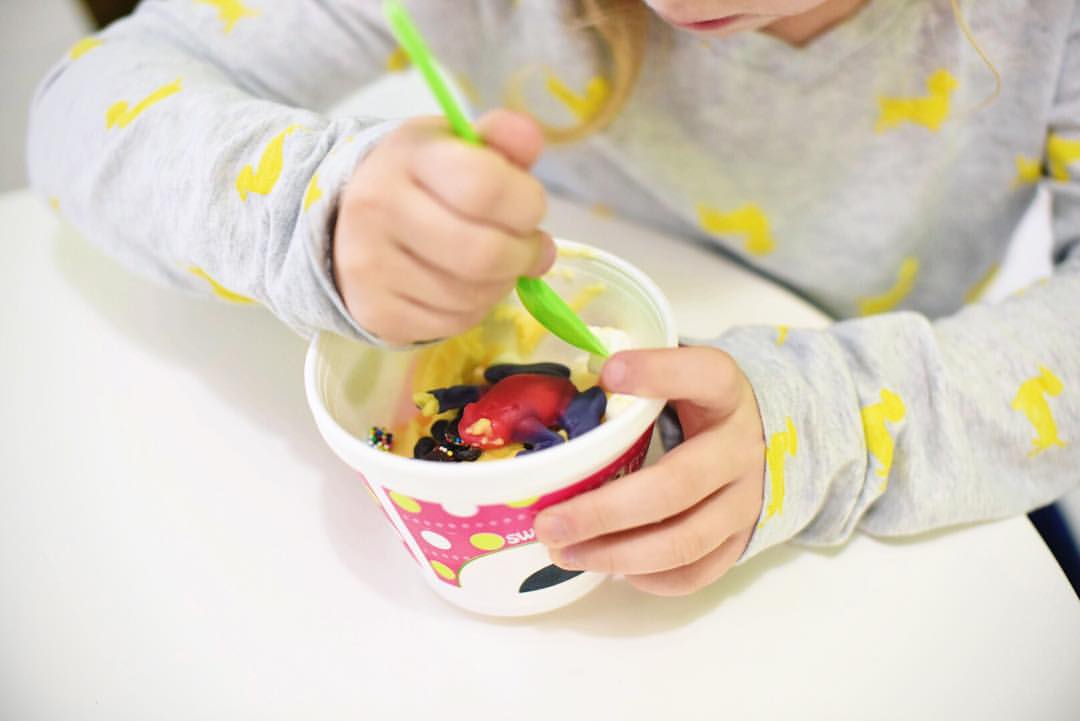 Imagine, if you will….
You and your family decide to take an impromptu treat trip to the local fro-yo shop.  It's one of those self-serve places, where there's a wall of 10+ flavors, 20+ toppings, and syrups galore. You get to mix and match your own flavor concoction, using your imagination. There are no limits on what you can create: if you can fit it in your cup, it's fair game.
But, for some reason, you still end up with your old-standard: chocolate fro-yo, mini chips, and peanut butter syrup. You wish you'd taken a bit more time and creativity to try that strawberry cheesecake froyo swirl with white chips, graham crackers crumbs, chocolate shavings, almonds, chocolate sauce, whipped cream, and a cherry on top.
You know the combination options are endless, however you felt a bit rushed and overwhelmed by the sheer number of combination possibilities. So you stick to what you know.
What you know is easy. 
It's comfortable.
It's safe. 
When you stay in your comfortable zone, nothing new is accomplished.  You stay stuck. And yes, that old standard fro-yo concoction is tasty. But, it's limiting you and keeping you from exploring the other opportunities and options you've been really wanting to try.
The reason I share this, is because the same idea can be applied to to your photo organization, storage, and printing.
Especially if you're one of my friends not printing her images.
In this digital age, it oftentimes feels like we have an endless supply of photo options.
Phone photos, DSLR photos, around-the-house photos, vacation photos, family photos, friend photos, event photos, party photos, and the list goes on and on.
Then there's the choice of albums, books, frames, canvas, metal, glass, or wood. Not to mention deciding which photos should fit into each of those options.
There are so many options that we stick to what is easy.
What is comfortable. 
What's safe. 
You probably upload a few photos to social media when you can.
But you hold your photos hostage on the camera, computer, or hard drive because the idea of choosing a different path (printing) feels uneasy. 
The thing that keeps you stuck from printing pictures often isn't a lack of time, or an inability to do the work, or the technology involved with doing so.
It's being overwhelmed by options.
Too many photos.
Too many products.
Too many choices.
Today I want you to commit to working through the process of trying a new flavor. And doing the work to do something new with your photos. If you're overwhelmed with prospect I've got my #1 strategy for you.
The 10 minute rule.
Everyone can find 10 spare minutes in their day. Even if that means setting an alarm in the morning 10 minutes earlier or staying up 10 extra minutes before going to bed.
Today I want you to choose a printing project or photo organization task to tackle.
What is it?
Say it out loud or write it down.
(…I'll wait) 
.
.
.
.
Now set a timer for 10 minutes.
And get to work.
You might find that by the end of 10 minutes you'll be energized to keep working on more. Or you may need to put your project away for the day. But I promise, if you give yourself 10 minutes or a little more a few times a week, your projects WILL get done.
Don't think about ALL the options.
Just choose one.
Try it.
And enjoy the tasty rewards of doing the work and tasting something new.
LET ME SHOW YOU HOW TO JUGGLE YOUR FULL SCHEDULE SO YOU CAN GET BACK TO THE CREATIVE PROJECTS THAT FULFILL YOU.
I know you want to finish the book that's been sitting on your nightstand for ages, or complete that half finished quilt in your sewing room, or print that photo book of memories you've been wanting off your phone.
You can during the FREE 6-day Recapture Time Email Class. Sign up HERE!