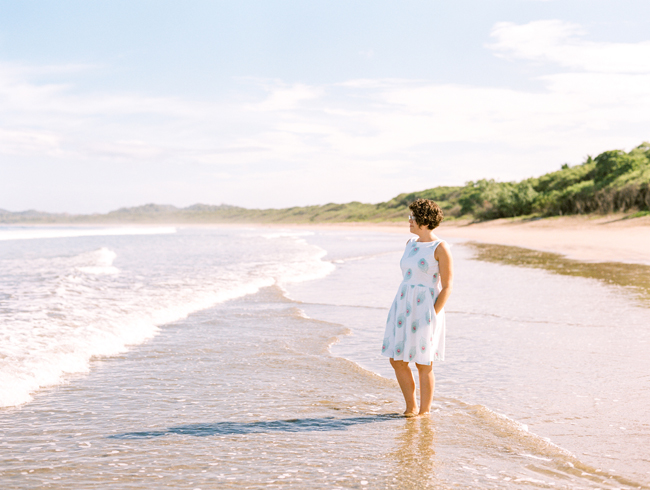 Photo Credit: Lauren Guilford Photography
This blog post is  part of the '20 Things You Might Not Know About Me' Blog Tag started by April from Blacksburg Belle. She began this blog tag experiment to build community among creatives, help bloggers to connect more and get to know each other better. But, I thought you all might like a little peek into some little known facts about me as well. If you blog and would like to participate or want more info, check out April's beginning post right here. 
P.S. I was tagged for this challenge by my past Resonate Experience client Marlene of MDC Artistic Designs.  You can read the answers to her questions here.  And now, here's a few little known facts about me! 
Question 1: How tall are you?
5'4″
Question 2: Do you have a hidden talent? If so, what?
I think my hidden talent is being patient and loving towards people. I'm definitely not patient with myself, but when it comes to others I genuinely have a positive patient attitude.
Question 3: What's your biggest blog-related pet peeve?
Pop up boxes that ask you to subscribe to a mailing when you haven't even had a chance to scroll through the person's website first to see if you want to actually subscribe or not! I just want a chance to dig in to a site and explore before I decide to get on a mailing list.
Question 4: What's your biggest non-blog related pet peeve?
Bad drivers. Bikers in the road. And traffic. We live off of a string of several one lane roadways and when I get stuck behind a super slow car or a biker who is in the middle of the roadway keeping me from getting to my destination I get super frustrated. This is that one case scenario when my hidden talent for patience most certainly doesn't apply. Ha!
Question 5: What's your favorite song?
I have a hard time selecting favorite songs, but artists are easy! Right now you'll find me jamming out to anything Maroon 5, Sara Bareilles, or Karmin. Those are a few of the current favs.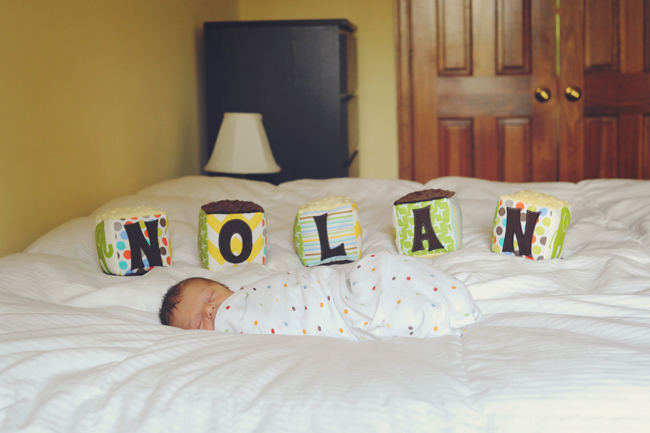 Question 6: What's your favorite Etsy shop that isn't yours?
I absolutely LOVE Mary from Lovin Ewe Too. I ordered her keepsake name blocks for Brielle's nursery and I've been back time and time again to order these for friends and family (including my nephew Nolan pictured here!). You get to customize the fonts and fabrics to match the nursery which is so much fun. She also now offers photo blocks which is something I'd LOVE to have her create for me someday too.
Question 7: What's your favorite way to spend your free time when you're alone?
Shopping. I love me a good dose of retail therapy especially when it also involves catching up with a good friend over lunch or dinner or coffee too.
Question 8: What's your favorite junk food?
I have to pick just one?! I'm going with kettle cooked potato chips. The saltier the better.
Question 9: What are your number one favorite nonfiction and fiction books?
Fiction: I Know This Much Is True, Wally Lamb
Nonfiction: Understanding Exposure, Bryan Peterson (this one was a total game changer for me an my photography)
Question 10: Do you have a pet or pets? If so, what kind and what are their names?
Yes. We've got 2 fickle kitties, Ebony and Vincent, who were our first babies and have been with us for 10 and 7 years respectively. We also grew our fur family again recently by becoming first time dog owners. Penny is our Beagle/Shepherd rescue who has taught us what it means to love unconditionally and to never give up on the ones you love either.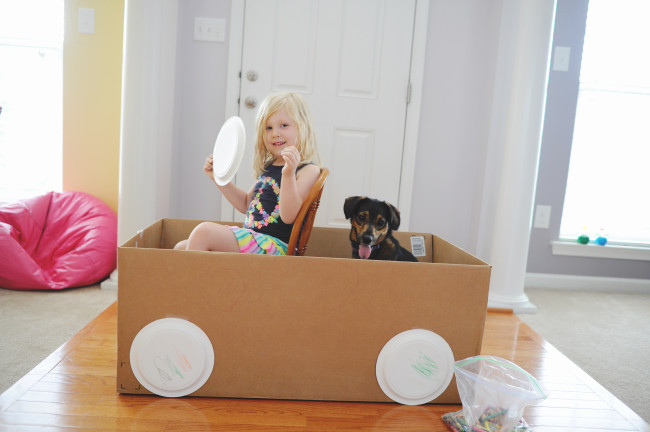 Question 11: What's your favorite beauty product?
My curl defining hair mousse. Keeps the fluffiness in check.
Question 12: When were you last embarrassed? What happened?
Oh gosh, I think something embarrassing happens to me almost every day! I am a total and utter klutzy forgetful mess some days. Most recent occurrence was last week on an airplane. I went to go use the lavatory and go stuck! I couldn't get out of the stall. Turns out I was trying to pull the door, but you have to push it in order for it to open. Someone had to call for help for me and everything! Good thing my seat was nearby so I didn't have to do a total walk of shame down the airplane aisle.
Question 13: If you could only drink one beverage (besides water) for the rest of your life, what would it be?
Well that's pretty easy for sure. Coffee for the win!
Question 14: What's your favorite movie?
People are pretty shocked to learn I'm not really a movie person. I have trouble sitting still and staying engaged through a full length film. I do however LOVE to watch TV and am making my way through several shows on Netflix right now. Current favs? Parenthood and Orange is the New Black.
Question 15: What were you in high school: prom queen, nerd, cheerleader, jock, valedictorian, band geek, loner, artist, prep?
I'm not quite sure I fit into one crowd in HS.  I was a nerdy 'drama geek' who sang in the choir. I hung out with a lot of band geeks too. P.S. The photo below is me circa 1998.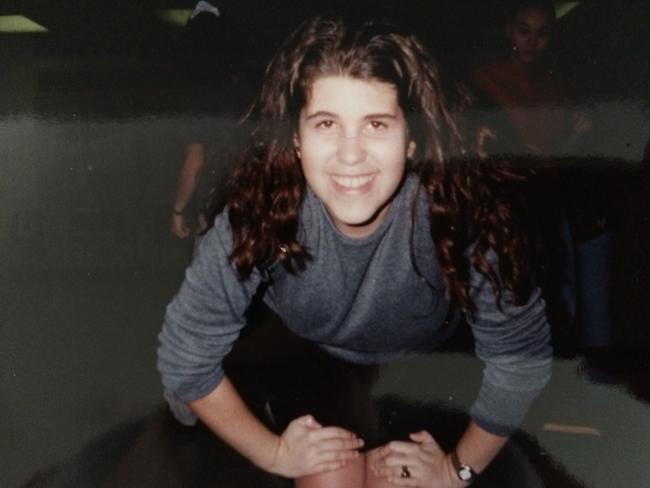 Question 16: If you could live anywhere in the world, where would you live?
Given that I've lived in Virginia my whole life there is a lot of world still left for us to see. I'd say I'd most love to live somewhere warm. California is most definitely high up on the list but it's kinda too far away from family for us to head there now.
Question 17: PC or Mac?
I switched to Mac about 4 years ago and will never be a PC person ever again.
Question 18: Last romantic gesture from a crush, date, boy/girlfriend, spouse?
Over the weekend I was vegging on the couch one afternoon and commenting on how I really needed to brew my 2nd cup of coffee for the day. My love not only brewed it for me but also knew exactly how I like it prepped (2 tablespoons of vanilla coconut milk creamer and 1/2 of a Truvia packet) and brought it to me without me even asking for his help. It's all about the simple gestures, yes?
Question 19: Favorite celebrity?
I have a secret crush on author and speaker Brene Brown. She has such a powerful message and I think what she's doing in the world is fantastic!
Question 20: What blogger do you secretly want be best friends with?
Glennon Melton from Momastary. She has SUCH a giving heart and an incredible way with words and people and knowing especially what us moms need to hear. I'd love to simply sit down for coffee and a chat with her because I think she is so frickin' inspiring!

Now, it's your turn! I'd love to learn more about my readers, too!  In the comments below, pick one of the 20 questions above and answer it in the comments below! 
Annnnnd….since I had a great time sharing a few things about me, I'm passing this blog challenge on to a few more fantastic mama bloggers that I've worked with and who inspire me daily:
If you ladies accept the tag, here's the deal:
1. Copy and paste the questions below and then answer and turn them into a blog post. Or, record a video answering these questions and upload it to your blog post.
2. At the bottom of your post, tag anywhere from 2-10 bloggers you want to see answer these questions. (I also suggest hitting up your tagged people via social media just to let them know you tagged them to do this tag challenge.)
3. Use the title: 20 Things You Might Not Know About Me Blog Tag. Once you've hit publish, leave a comment below with the link to your post.
4. Use the hashtag #20ThingsBlogTag when sharing on social media so we can all find your awesome posts!
If you have no time or just don't want to do this, I'm totally cool with that.  I just loved this idea of learning more about each other and thought you all might too.
xo.
Beryl